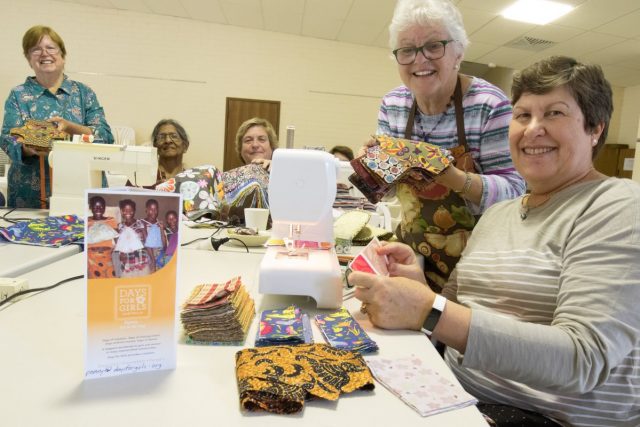 What is a finished project for now is a life mission for Days for Girls (DFG).
Ladies from the St Augustine and St Andrew's Anglican churches joined forces and put on some hard work for months to finally complete the menstrual kits project for DFG in Perth.
DFG is a non-for profit international organisation that aims to provide dignity, health and safety through access to quality sustainable menstrual health management and education.
DFG organiser Penny Hooper asked the churches to make shields and bags as two components for the menstrual kits.
During the last session 12 dedicated women kept on sewing and produced 100 shields.
There are around 130 bags from donated cotton material.
Purchases of specific types of underwear, wash cloths, plastic bags and small soaps totalling $350 were made through donations from parishioners who were not sewing, but wanted to contribute.
There are enough items to supply at least 100 bags.
St Andrews church member Barbara Otterman said everyone who participated got a huge sense of satisfaction to be part of such a positive cause.
"We realised that we have a very privileged lifestyle in Australia and we were prompted to give a hand to such a positive worthy cause," she said.
"Our message to the people in Canning is to seek out projects such as this and get involved."
Coming up in early October as part of international day of the girl, DFG in Perth is hosting the Big Sew Day.
Instead of the usual one day event DFG decided to spread it over two days for more people to get involved and had the opportunity to contribute.
DFG organiser Penny Hooper said they have sent out 2,000 kits this year and have another 800 on order that will be send out during the Big Sew Day.
There is no need to register, any questions can be sent to perth@daysforgirls.org.