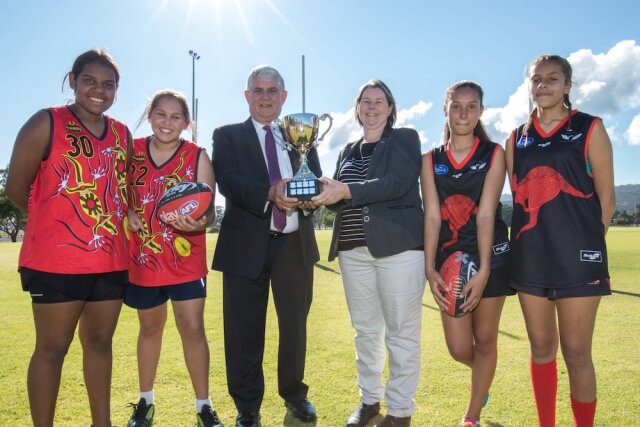 Earlier this month the inaugural Ken Wyatt Cup was held at Harmony Fields Oval in Maddington to celebrate education, employment and Australian football participation by female students.
On June 16 students from years seven to 10 from across eight schools including Yule Brook College and Southern River College took part in an AFL tournament competing for the cup.
Federal Member for Hasluck Ken Wyatt said it was important for the students to have an opportunity to play in a football competition and to follow their passion.
"I think Australia is waking up to the fact our women and our young girls are equals," he said.
"You shouldn't worry about whether you're a boy or girl, you should be given the opportunity of playing in sports which you love, which you want to play in and be accorded the same support, which is often given to men in elite sports.
"There are some outstanding individuals who played, some of the marks were spectacular."
Mr Wyatt said he hoped the competition would continue to grow and that it offered women an opportunity to compete and interact with other athletes.
Yule Brook College student and football player Jayeisha Ford said the tournament was a great idea.
"We're proving the boys wrong," she said.
"Footy's not just a boy's sports, girls can play too and when I get older I want to be able to say I played footy when I was young."
Alongside the football carnival students also had an opportunity to meet local women participating in the workforce and engage in snapshot employment presentations aiming to provide real-life examples of the different job opportunities.
Wirrpanda Foundation Director David Wirrpanda said the establishment of the Ken Wyatt Cup provided significant aspiration and opportunities for Aboriginal and Torres Strait Islander girls.
"We are currently working with the girls at grass roots level in our Deadly Sista Girlz program to go to school and make healthy lifestyle choices.
"To have sporting pathways for these girls would reinforce the work our mentors are doing and provide aspiration for the next generation of Indigenous female mentors," Mr Wirrpanda said.