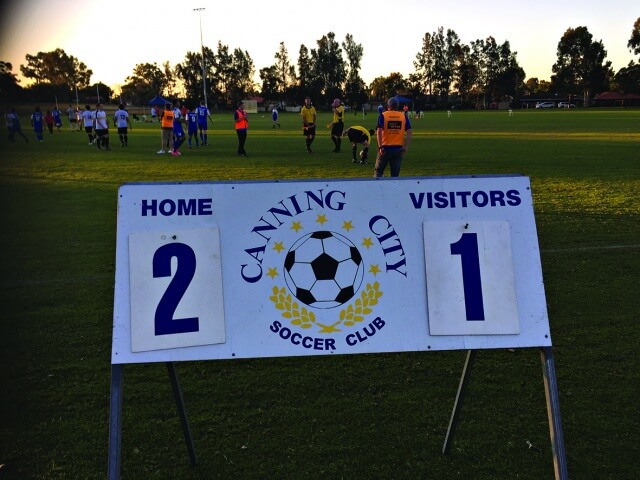 Canning City Soccer Club won its first game of the season last weekend in a tight battle at home against South West Phoenix.
After nine games the side managed to pull off its first win of 2017 at Burrendah Reserve in front of a strong home crowd.
The game began in a lively fashion with neither team able to assert control over the other.
Canning's tight defence kept the opposition side to long balls early on while Canning's strikers were able to get their right foot forward and occasionally threaten the visiting goalkeeper.
Canning made some attempts on goal in quick succession around the 15-minute mark with Canning captain Callum Roberts shooting over the crossbar and Laurence Cheyne's shot being pushed away out of play by the goalkeeper.
Shortly afterward Canning found another breakthrough with Cheyne running down the left to deliver a cross to Roberts, which he slotted into the net with ease.
The home side jumped into the lead early on but the conceded goal spurred the visitors and they began to control play for a while.
With Canning struggling to maintain control of the ball, keeper Luke Stonebridge was kept on his toes and managed to save a shot shortly after to the left of goal.
However before the break a mix-up between goalkeeper Stonebridge and defender Joe Horriea allowed Phoenix striker Carlo Chielini to take advantage and side-foot the ball into an empty space.
At the half-time whistle the two sides were 1-1.
The second half began cautiously with both teams focusing on not conceding early on.
Canning looked most likely to take the lead and they consistently caused headaches for the Phoenix defence after getting into rhythm.
Substitutes Joe Kelly and Nathan Hubbard were able to maintain the pressure long enough for a run by Roberts at the 72nd minute allowed a pass to Hubbard in the forward and a goal for Canning was netted.
Final score Canning City two goals to South West Phoenix one goal.
Canning switched immediately to a defensive game to protect their lead, which opened them up to consistent attacks by the visitors.
Missed opportunities from Canning counterattacks which could have practically ended the game frustrated the home side but with Phoenix not finding a way to level the scores before the whistle, Canning ended the day on top.
In front of a large home ground turnout Canning picked up its first three-pointer of the season.
Despite the win Canning remain bottom of the table in 11th place with four points.
The side are four points behind Gosnells City who are in 10th place.
Canning City's next game is against fourth-placed Forrestfield United at Burrendah Reserve on June 25 at 3pm.