Award-winning photographer Rob Baxter has recently moved to Roleystone after a lifetime in Como and South Perth. 
Mr Baxter said he originally wanted to be a painter but later discovered his passion for photography.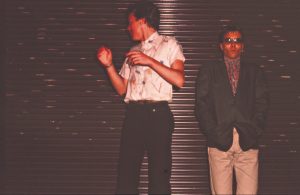 He said it started with a fascination of people, faces and music, and has now grown to include much more. 
"I love portraits, black and white, music, and getting that magic pic," he said. 
"I have recently discovered the beauty of Roleystone and landscapes, as well as travelling overseas regularly as a travel photographer," he said. 
Mr Baxter said he has used his friend and fellow artist Phil Berry as a model for the last 41 years. 
"In my quest to be a rock and roll/portrait/fashion photographer extraordinaire I've used Phil unashamedly as a model – sometimes just taken his picture because we are mates and I just love his art and music," he said. 
The pair met in 1978 at Perth Central TAFE and they have remained close friends and supporters of each other ever since. 
Mr Baxter will be travelling to Bunbury for Phil's Retrospective Exhibition showcasing some of his life's work. 
The exhibition runs from Saturday, October 5, until Sunday, November 17, at Bunbury Regional Art Gallery.