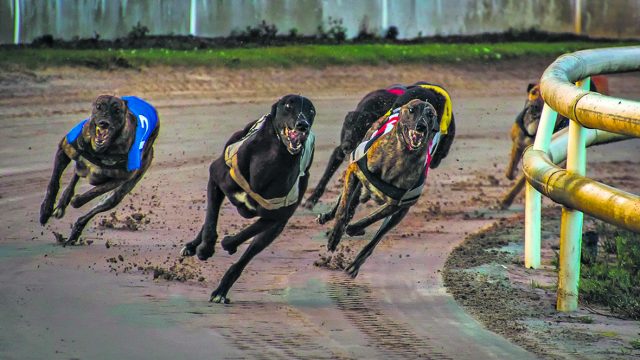 Another greyhound death on the Cannington race track has renewed calls on WA racing to limit the number of dogs allowed to participate in a race.
A recent steward's report revealed two-year-old greyhound Moment of Impact was euthanised when she suffered a right hock fracture after two collisions in an eight-dog race this month.
This has brought the WA racing death toll to five dogs this year.
Coalition for the Protection of Greyhounds' president Dennis Anderson said dogs Lou Lee, Lonnie Wonder and Broken Bad died earlier this year at Mandurah track, while Diamond George died at Cannington.
"Government must step in, if they care about animal welfare," Mr Anderson said.
The Coalition for the Protection of Greyhounds (CPG) has called on WA racing minister, Mr Reece Whitby, to reduce the number of dogs allowed to run in the same race, to six.
Mr Anderson, said research by the University of Technology Sydney showed limiting numbers on the field to six, cuts injury and death by 50 per cent.
"The dog racing industry stubbornly persists with racing fields larger than six dogs because it makes more money," he said.
"Winning dividends for place bets are reduced when fewer dogs run in a race1, so it's blood money for everyone involved.
"This is why we're calling on Minister Whitby to say why he won't act on safer six-dog starts in WA."
Mr Anderson said six-dog races are the norm in the UK and South Australia, yet dogs at Cannington are still racing with seven or eight runners and oval tracks with turns.
"We want the industry shut down, but while it still exists, six-dog races and straight tracks are the way to go," said Mr Anderson.
A government spokesperson said there are no plans to introduce six-dog starts in WA.
They said data from another investigation by the University of Technology in Sydney also showed that having eight dogs per race resulted in less major injuries than races with six dogs.
"The industry has embraced the need to have the highest standards and is committed to ensuring the best levels of care are given to racing greyhounds throughout all stages of their lives," the spokesperson said.
So far this year, 100 racing dogs have been killed and 6,425 injured nationally.