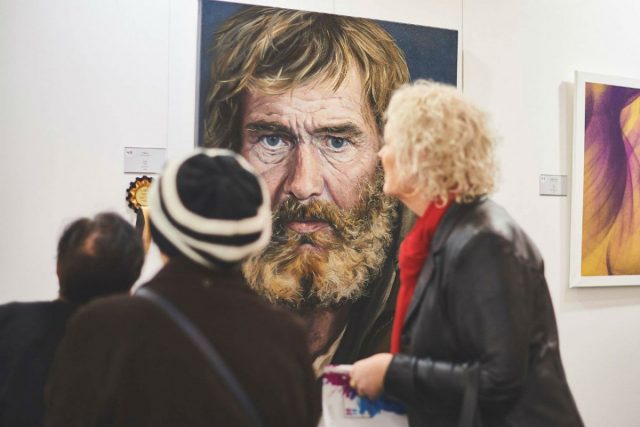 The City of Canning Art Awards has once again seen some prestigious talent portrayed to the masses.
A number of awards were given out to artists both local and from the wider Perth area, with categories open to both adult and youth contestants.
The art on display covered a wide range of media and issues, from homelessness and other social issues to childhood memories.
Lathlain artist Chris Goldberg was chosen as the overall winner for her work Fallout, a stark and emotive piece, which details homelessness.
"I actually found the picture online, it's a photo of a homeless man after the fall of communism in Yugoslavia," Ms Goldberg said.
"I chose it because his face tells a story about homelessness.
"It's a big issue in our society these days and it's something I address pretty often."
Ms Goldberg said the art awards were a testament to the ever-present vitality of the art community both in Canning and across the state.
"I've been part of the Canning Arts Group for about 10 years now," she said.
"It's just such a healthy atmosphere, where everyone just supports each other, no matter what you're working on.
"There's no pressure to rush, you can take your time which is always important in art."
In all, awards went to 13 contestants in a range of categories from painting and drawing to youth photography and local themes.
Canning mayor Paul Ng said the exhibition was a great opportunity to showcase local artists each year.
"Each year the Exhibition attracts over 2,500 people to the City's Civic and Administration Centre to enjoy the artwork on display," he said.
Canning Art Award 2018 Winners:
Adult – Painting: Fallout by Chris Goldberg
Adult – Drawing: Horses by Adrianna Wasinska-Fabian
Adult – 3D Sculpture/Textile: See Both Sides by Dave Barrett
Adult – Mixed Media: Still-life with Palmolive & Dish Brush by Stephanie De Biasi
Adult – Photography: Morning Light by Doug Smith
Youth – Painting: Turtle Dreaming by Crystal Hobbs
Youth – Drawing: Frail by Nikki Singh
Youth – 3D Sculpture/Textile: Haribon (Majestic Eagle) by Harold Panganiban
Youth – Mixed Media: Reflection by William Spann
Youth – Photography: Untitled by Christina Zeal Vum
City of Canning Resident: Fly Fishing by Grecian Sandwell
Local Theme Award: B-Leaves by Lyn Isted
City of Canning Acquisition Award: Catch a Falling Star by Marie Fritz