One Byford local who has lived around the south east suburbs since she arrived in Australia in 1966, will turn 100 on September 13.
Doreen Pope was born on September 13, 1921 in a small village called Harpole in Northamptonshire, England.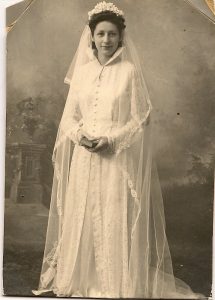 According to her family, Doreen started her working life at Freemasons but left shortly after to become a dressmaker.
In 1941 Doreen married Henry Clifford Pope (Cliff), who had been in the RAF since 1938 as a flight mechanic.
In 1943, he was posted to South Africa and was there until the end of the war.
Their daughter Anne was born in 1945, son Stephen was born in 1949 and there was an unexpected surprise when their daughter Janet was born in 1957.
The family moved to Perth, Australia in 1966 where they lived on Blight Street in Maddington.
Initially, Cliff and Stephen flew to Australia stopping at Rome, Cairo, Karachi, Colombo and Singapore.
Doreen arrived 10 weeks later by ship with her youngest daughter Janet, Mother Lottie, sister Anne, and Anne's husband George Soames, by this time, Doreen's father had passed away.
Cliff started the business Hypope, a mechanical handling equipment manufacturing company in Maddington, he was the first person to introduce tailgate lifts to Australia.
Hypope became Soames Frost, and Cliff and Doreen's son, Stephen worked for the business until 1970 when he was called up for National Service.
Doreen was a happy homemaker and the family moved to Hicks Street, Gosnells in 1968.
Her cooking skills were highly appreciated, especially roast dinners, sponge cakes, and bread and butter puddings.
Doreen's garden was always full of colourful flowers and she had an interest in growing orchids.
She likes to crochet, loves jigsaws, completing crosswords and the weekly scratchie.
She was an active member of the Armadale-Kelmscott Memorial Hospital Auxiliary for many years.
After the death of Cliff and since 2007, she has enjoyed community living at Baptistcare's Graceford Residential Care in Byford.
According to Baptistcare's Graceford Residential Care staff, Doreen loves getting her hair done every week and had a special styling session for her centenarian birthday.
Family is always important to Doreen and she has amassed an impressive herd that love and respect her.
Janet and her husband Harry reside in Dawesville. Stephen and his wife, Heidi reside in Batemans Bay, New South Wales and sadly cannot make the celebration for Doreen's significant milestone.
Doreen has seven grandchildren, 17 great-grandchildren and two great grandchildren.