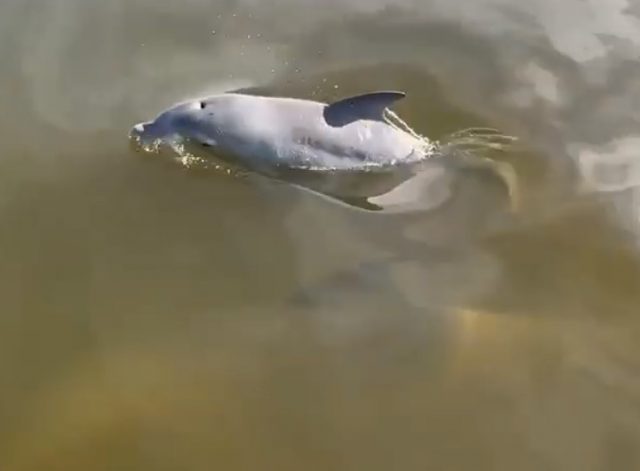 Environmental groups and local volunteers have expressed significant outrage, following the tragic death of a known dolphin calf.
The injured calf was first spotted in the Canning River, near the Mount Henry Bridge, on Sunday, May 9.
On May 10, Department of Biodiversity, Conservation, and Attractions (DBCA) staff and Perth Zoo veterinarians located the calf in the Swan River.
The calf was found to be exhausted, with fishing line wrapped around its pectoral fins and peduncle (the area between the dorsal fin and tail).
The rescuers were left with no choice but to euthanise the calf, in order to prevent any further suffering.
The calf belonged to one of the Swan Canning Riverpark's resident dolphins, Akuna.
Members of the Canning River Residents Environment Protection Association were all deeply disturbed by the incident.
"It is time to not mince words – the death of Akuna's calf is totally gut-wrenching for all those who care about animals and our marine life," CRREPA committee member Murray Radestock said.
"It's extremely disappointing for all those who put in a huge effort to care for the nature of the Swan River basin and its foreshore, and whom go to extraordinary lengths to try and prevent such deaths and injuries from occurring.
"If the people of Perth want to continue their enjoyment of watching dolphins in our beautiful Canning River, we must care for their environment."
Through the 'Reel It In' project, the DBCA, various local governments, and volunteers have installed 65 fishing waste bins around the Swan Canning Riverpark.
The department has urged all river-goers to dispose of fishing line, hooks, and other forms of litter in an appropriate manner.
"Discarded fishing line can have significant impacts on our wildlife, as it doesn't break down in the environment," a DBCA spokesperson said.
"This is a reminder of the importance of keeping the riverpark clean…people are reminded to continue to use these bins to dispose of fishing line and tackle.
"We will continue to work with the community to help reduce discarded fishing line from entering our waterways."
Contact the department's Wildcare Helpline on (08) 9474 9055 to report any sick or injured wildlife.