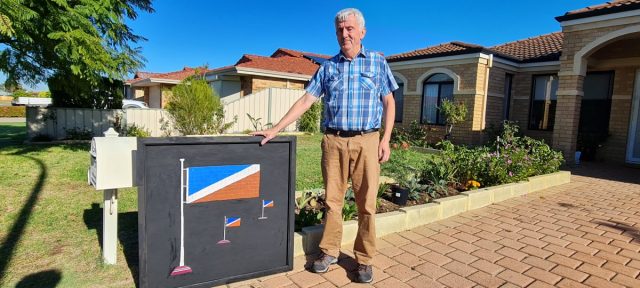 Union advocate and East Cannington resident Des Bowers is fighting to preserve the sanctity of Perth's Solidarity Park.
The Solidarity Park site, located near Parliament House, was pegged and legally claimed by unionists – under the provisions of the Mining Act – back in May 1997.
May Day 2021 saw a number of people from across Perth, including Federal Member for Burt Matt Keogh, visit the park to pay their respects.
That same day, Mr Bowers and Plumbing Trades Employees Union WA secretary Brian Bintley planted some new flowers.
Mr Bowers and Mr Bintley are now encouraging others to volunteer their time to plant more flowers and help maintain the area.
"I believe they [the plants] will get people talking, as they walk past," Mr Bowers said.
"Everyone has got the opportunity to do something important, in order to help Solidarity Park.
"By May Day next year, I hope the flower beds are covered with flowers…we need to revitalise the park."
Along with protecting the park, Mr Bowers has spent the past few years raising awareness of the dangers associated with asbestos.
He recently created a new work of art, featuring the 'asbestos flag', which he hopes to give to the Prime Minister during their next visit to Perth.
What are your thoughts on improving Solidarity Park? Email your Letters to the Editor to editorial@examinernewspapers.com.au today.