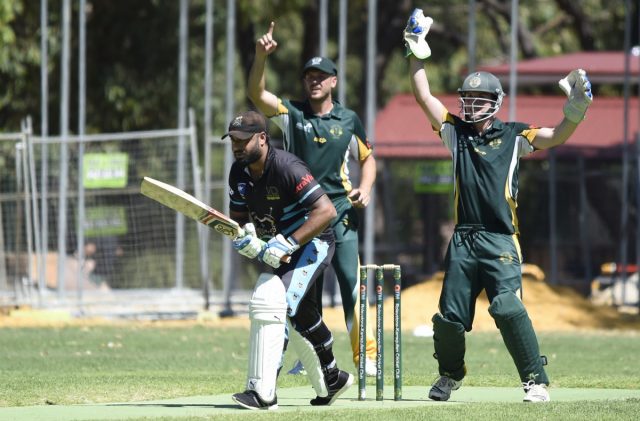 Roleystone Karragullen Cricket Club hosted the 2018-19 President's Cup final at Cross Park on Sunday afternoon. 
The President's Cup is the one-day cricket flag for the Swan Helena Districts Cricket Association and despite several grand final appearances in recent years, the flag had eluded the boys in green and gold. 
The day kicked off with the Roleystone Karragullen women's first ever local derby and an Epilepsy Awareness fundraiser with bouncy castles and face painting for the children. 
Roleystone Karragullen first grade hosted Caversham Cricket Club for the final at Cross Park and the local team felt confident having dispatched the visitors twice already this season. 
Roleystone Karragullen won the toss and sent the visitors in to bat first. 
The choice was rewarded with three quick wickets to Toby Moore. 
Caversham withstood the pace barrage and managed to compile 8/117 from their 40 overs.
The score was still competitive on the lush Cross Park and when Roleystone Karragullen lost their openers early, the visitors had a sniff at 2/14. 
Small partnerships developed and wickets continued to fall before the game became delicately poised at 8/110 in the 38th over. 
The winning runs were hit by Mitchell Stuart who belted a boundary in the 39th over to finish 8/118 to bring up the first President's Cup win for the club. 
Photographs – Richard Polden. 
Club coach Gavin Taylor said he was proud of the team's achievements. 
"I believe the club has played in five President's Cup finals and gone down in all of them, so this being the first I have been involved in is a pretty good feeling," he said. 
"They have been by far the most consistent side this season and have pushed hard and deserve this victory. 
"We enjoy this success but our eye is firmly set on the main goal of winning the first grade premiership flag and cup at the end of the season."