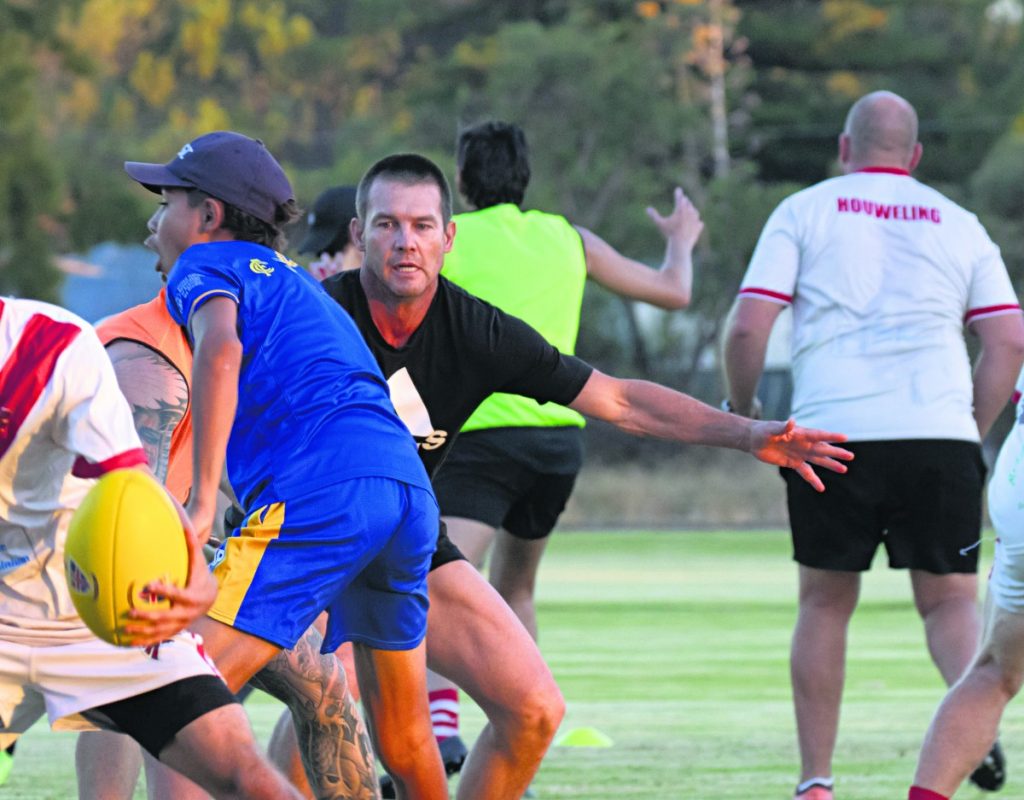 AFL legends Ben Cousins and Des Hedland were back on the field with local footy team Forrestdale FC this week, in a private training session last Thursday.
The club was tight-lipped about the affair, saying the session was all about the players having a chance to experience the highest level of football with the former AFL greats.
"Ben and Des both gave up their private time to have a training session with the boys," Forrestdale FC's James Gliddon told The Examiner.
"It was an amazing experience, we had 45 players on the track and they all got a taste of what it was like to have an AFL-standard player kicking a football to them," said James.
And by the looks of Cousins on the field, those standards haven't dropped – the 43-year-old former captain was looking as healthy and fit as ever as he took the local club through their paces.
"Des took a couple of drills and Ben participated in every single drill himself. He got around every single person who was there," said James.
Des Hedland is no stranger to local footy, occupying his current role as president at a rival club.
"Des is the president of Nollamara FC and Forrestdale play them this year, but he's still willing to give his time up to come down and be involved in the community," Mr Gliddon said.
The training session was organised after one of Forrestdale's former coaches took on a coaching role in a charity match that both Cousins and Hedland played earlier this year.
The game, which took place on January 22 at Leederville Oval, saw former West Coast Eagles midfielder Cousins lead the Crusaders against Hedland's Spartans.
The game ended in a Spartans win, with 157 to the Crusader's 125, and raised funds for Happiness Co Foundation and Lifeline.
The charity match was the first time Ben Cousins captained a team since the sensational 2005 AFL Grand Final loss to the Sydney Swans.
Mr Cousins, considered by many to be one of the greatest players to have ever played the game, had a 12-year career with the West Coast Eagles, leading the team as captain for five of them.
He was selected six times in the All-Australian Team and was honoured with awards including Most Valuable Player, the Premiership Medallion and the prestigious Brownlow Medal.
He retired from the AFL at the end of the 2010 season following two seasons playing for Richmond.
James Gliddon said he was grateful for the session and the opportunity for the local players to train with such high-level players.
"He and Des both gave up their time – it only helps the team and the club as a whole to have that experience," he said.
Forrestdale FC is in their 30th season this year and play in the Perth Football League with men's, women's and Colts and in the Fremantle Conference in Junior football boys and girls.