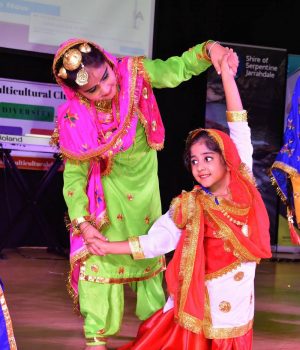 Although it might have looked like a scene from a Bollywood movie, the splash of colour seen in Byford recently was part of the Byford Multicultural Club celebrating a Punjabi folk festival earlier this month.
Moree than 300 people packed into the Kingia Function Centre on Mead Street in Byford to celebrate Lohri on January 13.
Club president and Byford resident Sukhwinder Singh said Lohri was a popular winter festival celebrated primarily by the people of the Punjab region in India.
"It is celebrated to mark the end of winter," he said.
"It is usually celebrated in houses where a child has been born or a marriage has recently taken place."
Mr Singh said as part of the celebrations children went from home to home singing traditional folk songs resulting in many children singing and dancing at the Lohri festival.
Mr Singh also said the celebrations were fantastic and brought the community together.
"The main purpose of our club is to promote cultural diversity in Australian society," he said.
"Our main aim is to bring people from various ethnic backgrounds to celebration and understand different cultures."
Formed in October 2017 Mr Singh said the club currently had more than 100 members and it was organising a membership drive during Harmony Week in March.
"The club was formed as there was no such club or association in Byford to cater for the growing number of people from different cultural backgrounds," he said.
"As of the 2016 census 27.8 per cent of people are born overseas in the area."