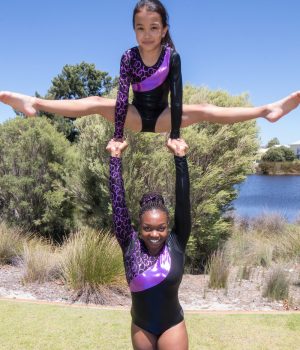 Two girls in the southeast metropolitan region have been nominated for the 2017 Acrobatics Junior Athlete of the Year Award.
Nadia Pang, 10 and Ruth Awange 17, both acrobatics gymnasts have been involved in the sport for a number of years.
A Thornlie resident, Nadia started gymnastics when she was just five years old.
She said she started with rhythmic gymnastics and then artistic gymnastics in Malaysia.
"When my family and I moved to Perth in 2016 I discovered acrobatics gymnastics," she said.
"I have been competing ever since."
Nadia said she liked to do the splits, handstands and the bridge formation.
She also said gymnastics allowed her the freedom to do whatever she wanted when her body.
Ruth also expressed similar views to Nadia and said the thing she loved most about acrobatics gymnastics was that it allowed her to feel free.
The Byford resident and Rossmoyne Senior High School student said she saw a flyer at her primary school some time ago advertising gymnastics at the local PCYC.
"I went home and begged my mother to join," she said.
"After the first trial class I started artistic gymnastics and continued competitively for two years."
Despite a back injury, which forced Ruth to stop for some time, she worked hard and got back into the sport.
Ruth's parents said they were proud of their daughter and said she was proof that determination, self-discipline, perseverance and endurance paid off.
Nadia's parents said they were happy for their daughter and described her as a strong willed young girl who sets goals for herself and goes after them.
The results of the 2017 Acrobatics Junior Athlete of the Year Award will be announced at the Gymnastics Western Australia Awards Night on February 24.