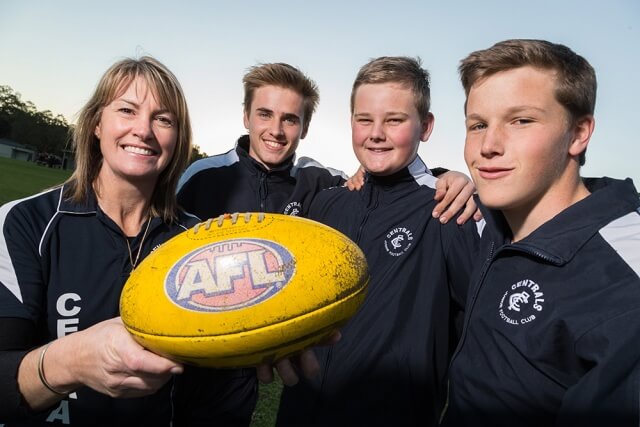 Mundijong Centrals Football Club will put its coaches to the test to raise money for asthma at its Coaches for a Cause match on Saturday.
Club treasurer Linda Branley said the annual event was a great way to bring the club and community together, while raising money and awareness for a different cause each year.
She said the club chose to throw its support behind asthma this year after hearing about the death of 20-year-old Byford resident Fallon Munday from  asthma last year.
Ms Branley said it was a particularly important cause given the prevalence of the disease, even within the club.
"I'm a team manager for the Y10s and in my group of boys I would have six who are asthmatic," she said.
"When it comes to a game of football, and it's very fast out there, kids forget.
"We don't want to scare the kids but we want to make the children a little bit more aware of how important controlling their asthma really is.
"But most importantly what we want to get across is that we want children to be able to keep playing sport and managing their asthma at the same time because it's so important for kids to play sport."
Player Tyler Kirkland, who has asthma, said raising awareness was important because people needed to be reminded how serious the disease could be.
"It's pretty important because people can die from it," he said.
"Asthma is a bad thing to have and there's not really a cure because I've had it for ages and some people can grow out of it but as I've gotten older it's gotten worse."
The game would also be the first to be played under lights following their recent installation.
The cause was founded in 2014 after the mother of one of the players was diagnosed with breast cancer and the club raised about $5000 to help her family.
The following year the club raised more than $8000 to help children from Camp Autism attend three holidays throughout this year.
Coaches for a Cause will be held at the Mundijong Oval in Cockram Street with bounce down at 5pm.
Auskick Exhibition Match will be held from 3.30pm.
The event will also include full bar facilities, activities for children and raffles.
Entry is $5 per family or car with all profits going to Asthma Foundation WA.