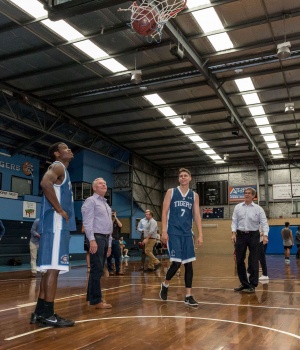 Premier Colin Barnett joined Member for Riverton Mike Nahan at Willetton Basketball Stadium on Friday to make a $3.5 million election promise toward its proposed $10.7 million expansion.
The Willetton Basketball Association has been screaming for the stadium's expansion with waitlists growing every year.
Currently there are 3500 players and the waitlist is more than 200.
The proposed expansion would see the stadium's courts expand from four courts to eight build infrastructure including change rooms, meeting rooms, a hall, offices and space for supporting health services such as physiotherapists.
Mr Barnett said this project would get hundreds more children playing team sport each week.
"It will increase capacity for local school and holiday programs, expand cultural community programs and help resolve poor health and obesity in young people," he said.
"Dr Nahan and Liberal Member for Tangney Ben Morton have lobbied hard for this project which will serve the community well for many years to come."
Dr Nahan said it was something the community was enthusiastically and passionately committed to.
"We hear a lot about drugs and crime in the community but there are hundreds of kids in this electorate who want to play weekly team sport but can't because of a lack of infrastructure," he said.
"Knowing this project has a significant Liberal Government commitment will be a big boost to the local community who have been working so hard to make it happen."
Mr Morton said he was working to secure federal funding for the project.
"The Willetton Basketball Association has the capacity to contribute a significant amount of their own fundraising towards this project," he said.
"This project is shovel ready."
Association president Phil Nixon welcomed the announcement, which he said was a huge surprise.
"We're nearly there," he said.
"One of the biggest things is we're running out of four venues, this allows us to consolidate it in house, all under one roof.
"It allows us to maximise our competitions and expand our competitions."
Federal funding is all that is left for the project to go ahead with the City of Canning committing to fund the project subject to federal funds.
For more state election stories and candidate profiles click here.