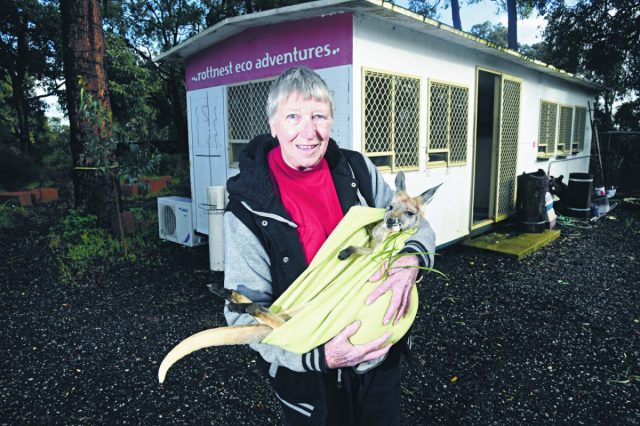 An old, dilapidated portable office originally owned by a Rottnest ferry company will be given a new lease on life to care for sick and injured animals in the Gosnells bushland.
Kaarakin Black Cockatoo Conservation Centre was gifted the building about five years ago, but it has since sat full of junk and left to rust at the wildlife centre.
Volunteer Carolyn Lewis has taken the project under her wing to convert the building into a clinic for sick and injured animals of all shapes and sizes, including her beloved bob-tailed lizards and her friend 'Wombat' the kangaroo.
A volunteer at the centre for the last nine years, Ms Lewis spent about three weeks removing sticky tape, scuff marks and screws from the internal walls of the building before she sets her sights on the mammoth task of removing the mildew carpet and fixing the rusted ceiling.
"I want to put incubators along one side of the building with cupboards underneath for storage," she said.
"On the other side there will be a sink and a steel table in the middle to work on the animals.
"It will only be a small clinic but it is important that we have one on site as we can't use the other hospital as it is quarantined for the endangered black cockatoos."
Ms Lewis also has a firm vision for the exterior shell of the building and was hoping a local artist would come on board to bring her vision to reality.
"I would love to see a kangaroo and an emu painted on the outside peering into the window," she said.
"The rest could be painted with native plants and other small animals to blend into the natural habitat."
To help out or donate to the not-for-profit organisation contact Kaarakin on 9390 2288.