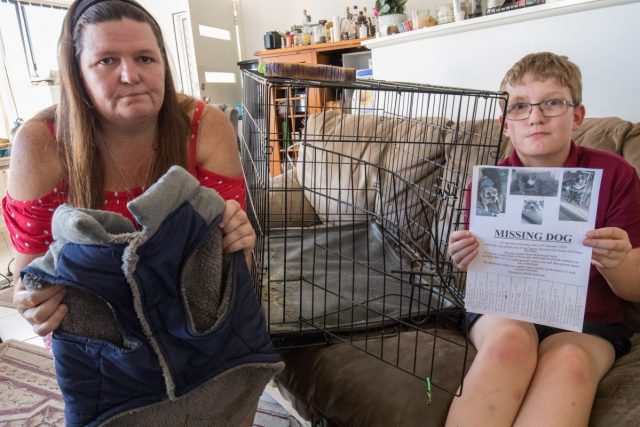 A Kelmscott mother and her 11-year-old son are pleading with the community to keep an eye out for their beloved dog TJ who went missing last month.
Tania Sullivan said she had put her dog inside a pet carrier cage inside her home on January 18 at about 6.30pm before going to the shops.
"When I returned home at about 9pm I noticed my sliding door was left open and the front door of the pet cage had been pulled forward and my dog was gone," she said.
"I looked through my house and nothing else was missing… my son's PlayStation was still sitting there, my laptop and laptop bag was still sitting where it was, the cash was still there, nothing else was gone except for our dog."
Ms Sullivan said she had reported the incident to police and called the City of Armadale ranger's team and other local government pounds just in case he had been handed in elsewhere.
"I have been looking around for him and have had people tell me that they have seen him so I have gone there and he has not been there," she said.
"I am devastated… I am worried that he is not being looked after or he could be hit by a car or he could be sick and injured and no one is there for him."
Ms Sullivan got TJ, the seven-year-old rescue dog about eight months ago after her home was broken into when she was home.
"He is hyperactive and a very lovable dog," she said.
"It is just heartbreaking that I don't know where my boy is."
Ms Sullivan has posted several times on social media calling for the community to keep an eye out for TJ and is now putting up posters in the areas of Kelmscott, Armadale and Champion Lakes.