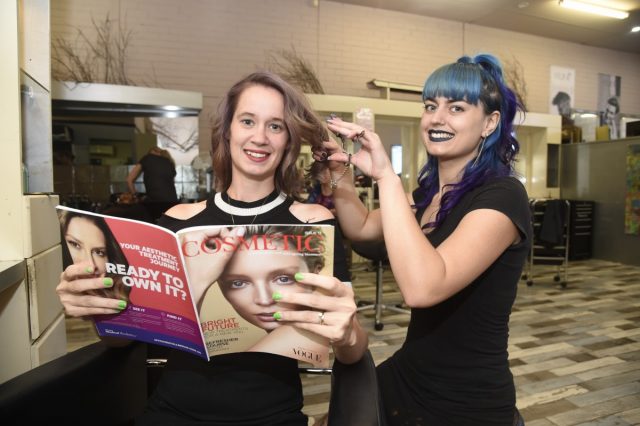 Shauna Webb is not your typical girly girl who wears makeup and gets her nails done but she has always had her hair. 
She had long ringlets as a child and would often go to school each day with a different hairstyle. 
Today, Mrs Webb's hair is an important part of her identity as she regularly heads to her uncle David Plowman's hair salon to treat herself to a new style and bright colour. 
Mrs Webb will soon be swapping her long locks for a short buzz cut as she has committed to taking part in this year's Leukaemia Foundation World's Greatest Shave. 
She told The Examiner she felt compelled to take part in the fundraiser to not only step outside of her comfort zone but also teach her children the gift of giving. 
"I have a cousin who was diagnosed with leukaemia as a baby but, thankfully, one of our cousins was a donor match which saved his life," she said. "He was in remission for about 20 odd years and in recent years my nan told me that he had actually been re-diagnosed. 
"I think this has also pushed me to take part." 
Mrs Webb will complete the shave in June and if all goes to plan she will give birth to her aunty's baby in the weeks that follow. 
"My aunty is like my second mum and unfortunately her biggest dream of becoming a mum was not possible due to a number of infertility issues," she said. 
"So my husband and I decided to let her know that we would love to help her with her dream and become a mum. 
"Twenty-odd years later and three years after my husband and I told her we would love to help her make her dream come true we found out everything has worked and I was carrying her baby. 
"If all goes to plan I will be having a caesarean delivering him or her just over four weeks after the shave."