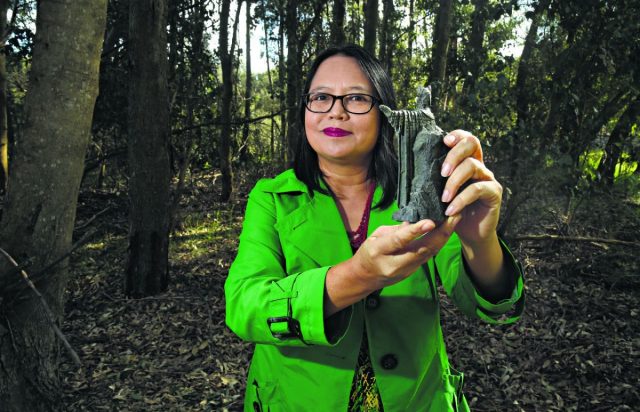 Local resident Prunella Riddle wants you to buy into her plan to buy nothing.
The community organiser has become the head of the local chapter of the Buy Nothing Project, an international scheme aimed at providing goods and services to people in need through the community, using a very simple, but often-overlooked, method: talking to one another.
"The Buy Nothing Project is about wastage and ecology, it's about all of those things, but what I like most about it is the fact that, just through wanting a plant, I've met and formed relationships with people just down my street who I might not have met otherwise," she said.
"People can get so lonely and trapped inside their own home, which is a shame because there's so much opportunity to connect."
The Buy Nothing Porject – which operates under the slogan "Buy Nothing, Give Freely, Share Creatively" – began when two friends, Rebecca Rockefeller and Liesl Clark, created an experimental hyper-local gift economy in their home of Bainbridge Island in the US.
Since then, the idea of establishing a network of socially-driven traders and markets has taken over Australia.
"Out of 23 countries the project is now in, it's growing the fastest here," Ms Riddle said.
"It came here about three years ago and now they're all over the place.
"I noticed there wasn't a local one last year, so I just thought stuff it, I'll do it myself."
Ms Riddle has since been inundated with connections, has formed many friendships within walking distance of her own front door and has done the same for many more.
She has become a champion of what the network can offer, a community connection on top of almost anything your mind can imagine, so long as someone close by can provide or make it.
"My husband plays tabletop games, and I was able to get these over the network," she said of the pair of heavily-detailed fantasy bookends.
"It's just an example of the kinds of things you can do and there's a story behind every item."
Ms Riddle has been running the local network for less than a year, but already has had multiple success stories.
"We have one example of an older single lady who was looking for someone to help her pot her plants," she said.
"So she got in contact with a younger lady who just happened to be getting into gardening.
"She went over once and now they're together every week gardening.
"It's those kinds of connections that make me excited about the project, and bring it to as many people as possible."
For more information go to the Buy Nothing Ferndale/Lynwood/Parkwood/Langford, Perth WA Facebook page.