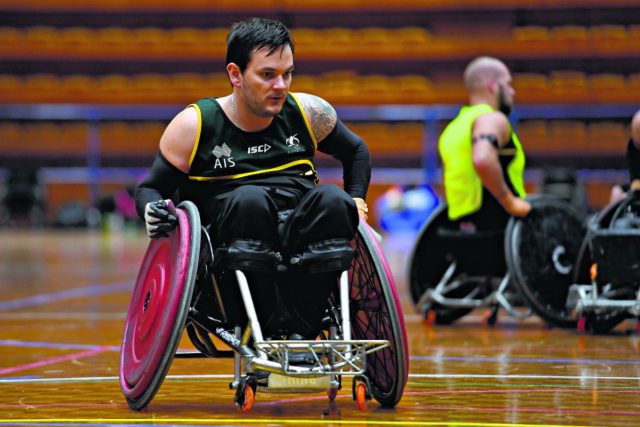 Local para-athlete Jake Howe will become Western Australia's first wheelchair rugby representative at a major championship in 10 years when he competes at the IWRF Wheelchair Rugby Championships next month in Sydney.
The Haynes resident will join the 11-strong Australian Steelers team who were all ready to become the first Australians to win an international championship on home soil.
"It's been a long time coming," he said.
"It feels like I've been training for this moment all my life.
"It's the first real major that I've been a part of so that's another experience that I haven't experienced yet and I know it's going to be awesome."
Mr Howe has been in a wheelchair since crushing three vertebrae in an accident in 2012.
The injury from a freak accident that immediately halted the young man's active lifestyle would have been a catalyst for depression, Howe admits, if it weren't for wheelchair rugby.
"I think I started training about six months after my injury," he said.
"Basically as soon as I heard about it and I knew I could take part I wanted to be involved."
The sport, an intense mix of wheelchair basketball and rugby made famous by the fittingly-titled 2005 documentary Murderball sees participants making full-contact tackles in specially-designed wheelchairs.
Mr Howe was immediately drawn to the potency of the sport because it allowed him to maintain an active lifestyle, something he wanted to prove to himself as much as anyone else.
"I think I was first drawn in by the intensity above anything else," he said.
"It just looked so high-energy, it really made an impact on me in terms of getting back into society.
"I don't really have depression or anything, but after the accident I could kind of understand where people come from when they have that – that feeling of being separated from absolutely everyone and everything.
"Getting into the sport was really my way of saying to myself 'No, enough, it's time to get back and involved in life again'."
Mr Howe who has won 29 out of 41 international games since making his debut with the Steelers 18 months ago was also looking forward to having his family and friends experience this level of wheelchair rugby live for the first time.
"I've got half a dozen people coming over," he said.
"My aunt and uncle are coming over and they haven't experienced any of it yet.
"It's the best way to see it live and one of the highest levels."
The 12-team tournament at Sydney Olympic Park will see two pools of six with Australia set to meet Japan, Sweden, New Zealand, Denmark and Ireland in the qualifying rounds.
The other pool will see the USA, Canada, Great Britain, France, Columbia and Poland battle.
The GIO 2018 IWRF Wheelchair Rugby World Championship will be contested from August 5 to 10 at Sydney Olympic Park.