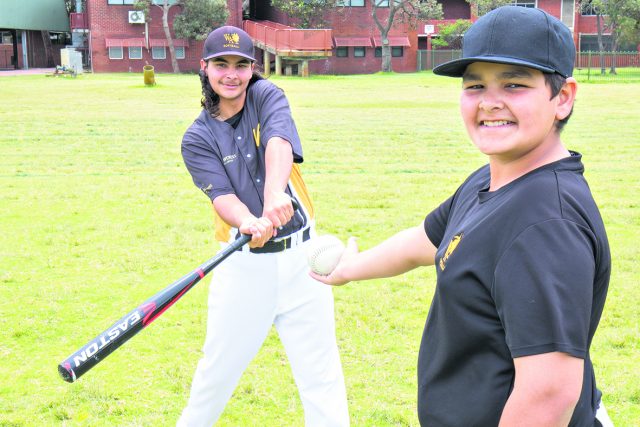 Two Kelmscott Senior High School brothers will pack their bags early next year to travel east and represent WA in the 2019 Softball Australia competition.
Aaryan and Luuca Kapoor were both selected to represent the state in January next year with Aaryan competing in South Australia in the under 17s squad and Luuca travelling to Canberra with the under 15s side.
The boys, who currently play for the Western Cobras and the Cloverdale Comets, tried out earlier this year against the best of the best from around the state including some who travelled from as far as Port Hedland and Geraldton.
Aaryan said he was pretty confident he was going to be chosen as he had represented the state once before.
"Competing in the state competition is a whole different experience to competing in juniors because it is a much bigger environment," he said.
"States like New South Wales and Queensland have a lot more skill development than other states so it is much bigger and you just have to try and keep up with the competition."
Luuca said he was excited to be selected and hoped the experience would help him improve his teamwork skills and mature his game play.
"Our mum and her partner will be coming along to see our games," he said.
"They will be driving over, firstly stopping in South Australia for Aaryan's games and then onto the Australian Capital Territory for mine."
Luuca's coach Michael Shipard said he was a good all-round player and a great asset to the team.
"We have a lot of young boys in our team and we seem to be progressing in the right direction," he said.
"Many of them are starting to improve so hopefully when it comes to competition time we will be ready to compete and take on the others for the state title."
Aaryan's coach Shawn Boggle described him as a very rounded athlete with strong knowledge of the game at state level.
"Although he was selected as a power outfielder, he is more than capable of covering any number of positions in the infield as well," he said.
"He is a fantastic team player and often has the other members of the squad laughing and seeing the lighter side of a tough training session, which is very important in a team and will be highly valued on tour."
The under 17s competition will be held in South Australia from January 5 to 11 and the under 15s competition will be held in Canberra from January 13 to 19.