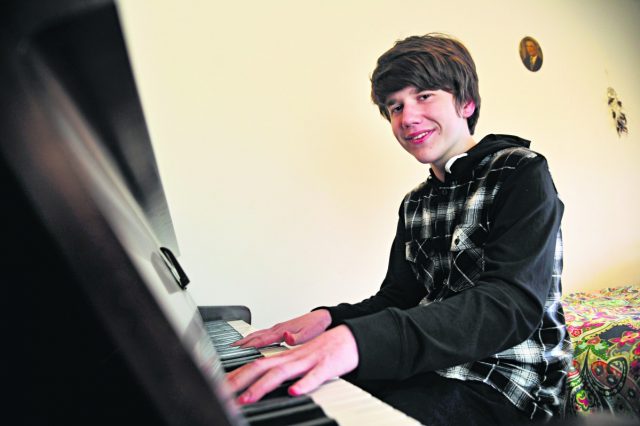 When Suzanne Kitson put out a call asking for a piano for her son, she didn't think she would receive the response she did.
The Willetton mother had no idea she was about to unleash a wave of charity that has seen one young man find direction and confidence in a newfound passion.
Ms Kitson's son Campbell has autism and for the last year has been on a journey of self-discovery.
"It's just been amazing, he's like a completely different kid," Ms Kitson said.
"I don't even like to think about what state he was in a year ago.
"But ever since he started playing, he's had this goal and this sense of purpose, it's really given him this whole new lease on life."
Keen to keep her 14-year-old's skills developing, Ms Kitson asked for assistance.
"One of the teachers who he's seen was just talking about how amazing it is he's progressed so much in just six months of training," she said.
"We had the keyboard but he was just getting so far ahead, I wanted to make sure he had a proper piano to play on."
What followed was an outpouring of support, a committed response to one young man's ambition and a good example of how a little word-of-mouth can go along way.
"I was just blown away by the support," Ms Kitson said.
It took roughly a week for a quality upright to be found, donated to the cause and moved over to the Kitsons' home.
Ms Kitson was keen to thank everyone involved, including Andy Hastie from Forte Heave Removals.
"Once he found out what was happening – I don't know how exactly – he didn't want to be charged," she said.
"He just said,' 'Don't worry about it, it's for a good cause'.
"I didn't know what to say.
"Everyone's just been so amazing."
As for Campbell, the world has opened up much more to him.
"I love the feeling of making something, and the image of just playing the keys," he said.
"I'm not too good at creating my own music, but I've realised how much you can do with other songs."
In that, Campbell has been working on a number of compositions, including a restructuring of the classic video game Castlevania's signature track he is pretty proud of.
And while any number of words could be said about Campbell's capacity to become a great pianist – he has the forethought, imagination and passion to go a long way – for him, it's an experience of enjoyment at this stage.
"For me, when I started playing, I didn't really look up to any one pianist or band, or anything like that," he said.
"It was basically just the act of playing for myself – I, at first, just enjoyed the motion, the patterns and the process.
"I don't know where I want to go with it exactly, I just like the feeling playing gives me."
Ms Kitson is extremely grateful to the members of the community who helped out, many of who came from the 'I love Willetton' Facebook page.
"It was just so extraordinary to see how much people wanted to help out, it really gave us a lot of faith back in the community," she said.
"You know, it's not always easy, and it has been hard for Campbell, but it just warms my heart so much to see how happy he is."