The Kelmscott Bulldogs went into last weekend's games with a team of players on the sidelines with work and injuries but came away from Warwick Greenwood with a League win and a very competitive result in the Reserves.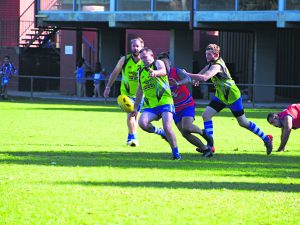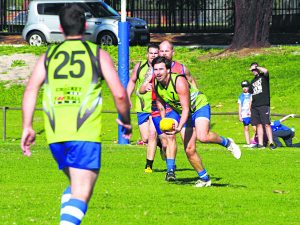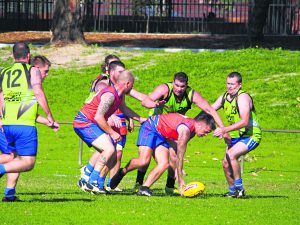 Nineteen players, including Robbie Turner, Jared Stevens and Gavin Harmer, who already had played 80 minutes in the Reserves, put in solid performances. Ben Bridge rucked all day and the team could not take advantage of his taps in the first quarter, scoring only 7 points.
For the next three quarters, Lawrence Hansen (2 goals), Jamie Miller (2), Shaye Hayden (2) and Joshua Pedder (1) began to run hard. Their hard work was rewarded with goals. Captain Kristian Egan was all over the ground and will pick up more best and fairest votes for his five goals.
Young 19 year old full-forward Kyle Collard settled down after his first quarter yips and used the wind to his advantage, booting six majors. Ryan Erceg has found his place in the backline with his many intercepting marks and accurate kicking, turning defence into attack. Dylan Hansen was turning the opposition inside out on his wing.
The Bulldogs were able to score seven, eight and six goals in the next three quarters respectively to record a 74-point win.
Kelmscott 21.15 (141) defeated Warwick 10.7 (67) to remain third place on the ladder.
The Reserves started with 16 players verses 24.
Being undermanned, the 'Dogs did not score but competed strongly in the first quarter holding Warwick to 3.2. With three more players arriving for the start of the second due to work commitments, the team worked very hard and outscored Warwick 2.4 to 2.3.
Full back David Pedder played his best game for the year and took many contested marks, while Luke Abdilla competed for his fair share of the ball in the ruck and around the ground.
First gamers Ian Collard (1 goal) and Mark Dobson will improve. Seventeen-year-old Blair Forman was unbeatable on his wing and kicked a clever goal.
Jared Stevens, Ryan Butcher (1 goal) and Robbie Turner pushed themselves to repel many attacks into the Warwick forward line and then pop up across the 'Dogs half forward line to lock the ball in. Reece Wardlow (1 goal ) had the opportunity to bag 4. The Reserves had the opportunities, showed commitment and improvement to hold Warwick to 13.8 (86) to Kelmscott 4.6 (30) score line.
This week the Bulldogs League team has a bye and the Reserves will play Warwick at 12.00pm in a curtain-raiser game prior to the MFL 25TH Anniversary, North verses South at 2.30pm on Sunday at Altone Park, Beechboro.