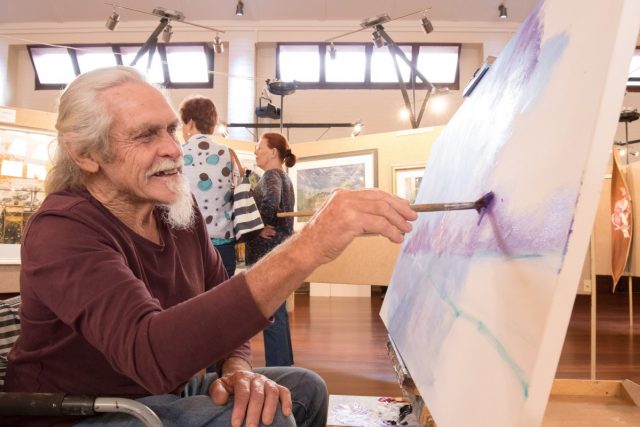 An annual art exhibition returned to its original home of Armadale District Hall last weekend showcasing more than 240 artworks by local artists.
Armadale Society of Artists' 32nd exhibition was held on Saturday and Sunday as part of the City of Armadale's Spring into Armadale Festival.
The exhibition featured a diverse range of works as well as demonstrations by artists David Giles, Hazel Moore, David Archer and Edward Beer.
Society president Trish Halloran said about 650 people came through the doors to enjoy the exhibition.
"People commented saying they loved seeing artists at work and it made the exhibition really interesting and quite often I noticed the artists letting children have a go with a paintbrush or pastel chalk, which the kids enjoyed," she said.
"The lesser hall was transformed into a café style with tablecloths, fresh fragrant roses and delicious Devonshire teas being offered with a range of colourful art on the wall to look at.
"There were also several raffles and a silent auction which ran over the weekend."
The group has a permanent display at the Art House on Hobbs on Hobbs Drive in Armadale.
For more information about the group visit the website, email enquiries@armadalesocietyofartists.com.au or call Trish on 0455 552 842.
Photographs – Aaron Van Rongen.