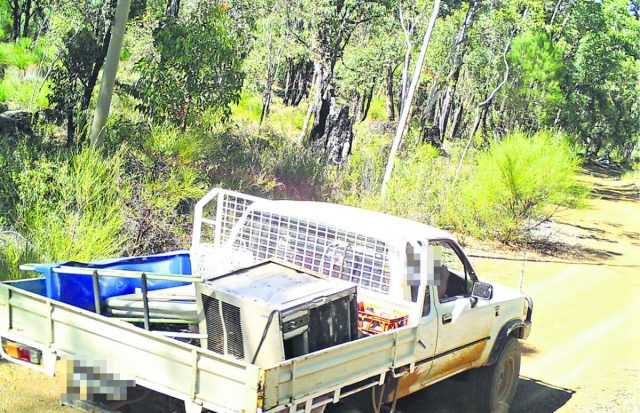 An Armadale man who dumped a ute-load of household waste in the state forest at Ashendon has been fined $1,500 in the Armadale Magistrates Court.
The Department of Water and Environmental Regulation (DWER) launched the prosecution after 28-year-old Aaron Bradley Solomon was caught on covert surveillance cameras.
The court heard that at about 7.52am on Saturday 8 April 2017, Solomon drove a white Toyota Hilux into State Forest 22 at Leslie Track, a gravel road off Brookton Highway just prior to Ashendon Road.
He discarded an air conditioner and other household waste into the bush 100 metres from the track's entrance to Brookton Highway.
Mr Solomon pleaded guilty to the charge and in addition to the fine, was ordered to pay prosecution costs of $695.85.
DWER waste operations manager Matt Warnock said the successful prosecution should act as a warning to would-be dumpers.
"The Department's Illegal Dumping team is working in partnership with other state and local government authorities to stamp out the illegal dumping of waste," he said.
"Illegal dumping can impact people's health and the environment and impose significant clean-up costs."
The Department conducts more than 200 illegal dumping investigations annually and monitors covert surveillance across the State.
Illegal dumping can be reported to DWER's 24-hour Pollution Watch Hotline on 1300 784 782 or by email to pollutionwatch@dwer.wa.gov.au.