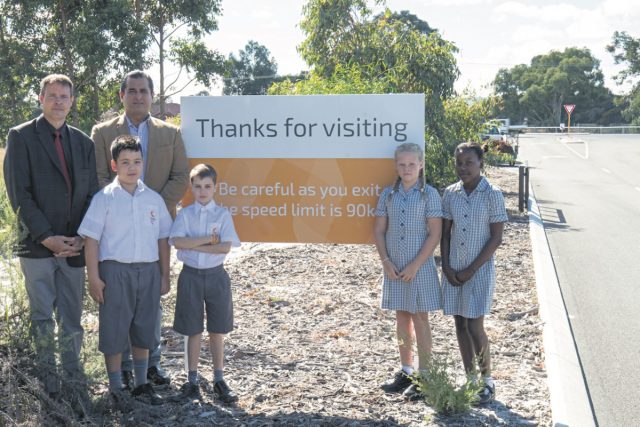 Outside most Australian schools drivers need to keep to 40 kilometres-per-hour during mornings and afternoons, but at a school in Forrestdale cars fly by at more than twice that speed.
For three years Carey Baptist College Forrestdale families have been campaigning to have the speed limit on Nicholson Road lowered with little progress, and the longer it remains a 90 kilometres-per-hour road the more parents, staff and students say they are concerned it will take a serious accident to get change.
Carey Baptist College Forrestdale is hidden away down a long driveway off Nicholson Road and has about 200 students.
With campus traffic having to enter a road frequented by fast-moving cars and heavy vehicles, students and staff say lives are being put at risk each morning and afternoon.
School officials have been pushing for the speed limit to be reduced since the school opened in 2016, but it was last year that students took matters into their own hands during a visit from Member for Jandakot Yaz Mubarakai.
When Mr Mubarakai asked if the students had any issues to raise, unprompted by staff, the children told him the road was a priority.
Ffion Richards, 11, said leaving the campus was dangerous.
"It's just a big main road," she said.
"At the end of the day there are students and teachers and parents who want to get out safely."
Mr Mubarakai took the children's pleas to Transport Minister Rita Saffioti, and has requested an investigation into the speed limit during drop-off and pick-up times.
The Examiner understands Mr Mubarakai is still waiting for a response, but principal Nigel Wise said he hoped something would be done after years of trying.
"With 200 students at the moment, which is likely to grow to 280 next year, dismissal time when cars exit the school onto a 90 kilometre-per-hour road has a lot of issues," he said.
Mr Wise said while there had not yet been a major accident, there had been near misses and the school community was concerned.
"It's an accident waiting to happen," he said.
"For the safety of our students and to stop a tragedy happening, it seems really sensible to make it like any other school in Australia and adjust the speed limit."
While Mr Wise said he was not sure if the limit on Nicholson Road would be dropped to 40 kilometres-per-hour, as is standard for school zones during certain hours, he thought 60km/h would be a fair compromise.
"90 kilometres-per-hour is just ridiculous," he said.