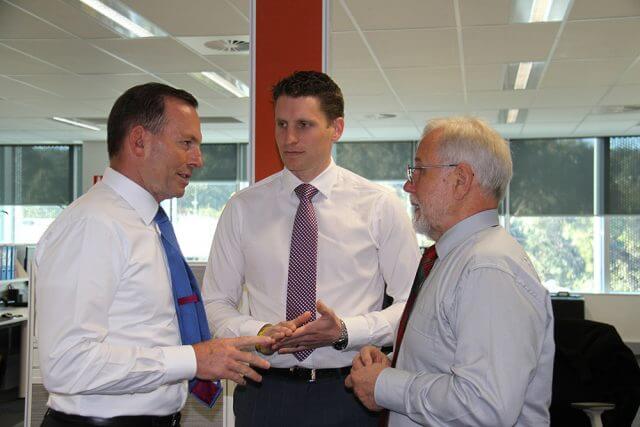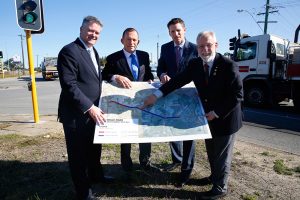 Prime Minister Tony Abbott was shocked by footage of a brazen attack on a pregnant woman in an Armadale street on June 28 but pleased CCTV funded by the safer streets program had worked in Armadale.
Mr Abbott saw the footage today while in Armadale to support Liberal candidate for Canning Andrew Hastie, who said crime was a major concern for voters across the electorate.
The footage, released by police last week, led to charges against three girls aged 19, 16 and 15.
"We just saw graphic CCTV footage of a crime taking place which has been used by the police to launch a prosecution, which will hopefully result in some convictions," Mr Abbott said.
"It is good to see the safer streets program is already bearing fruit here in Armadale as it will shortly in Mandurah."
The program funded $170,000 worth of CCTV in September last year for the Armadale CBD.
Mr Abbott, who held a press conference at the City of Armadale before heading to Armadale Road to check out the congestion and safety problems, did not promise funding for $290 million community connect south campaign announced last week.
"The best way to go is thinking before you spend and unfortunately with Labor there was too much spending before thinking so we are going to be thinking about this, talking to the state government about it and the candidate before we just rush in with an open cheque," he said.
While Mr Abbott visited Port Bouvard surf lifesaving club and pledged $1 million for redevelopments 10 days ago, he would not say what else was on late member for Canning Don Randall's wish list.
"I was very pleased to go down to the Port Bouvard surf lifesaving club because that was very dear to Don's heart," he said.
"There were a couple of other things that were on Don's wish list and I also want to make sure they are on Andrew Hastie's wish list.
"I'm not going to go into chapter and verse because Don was very ambitious for his electorate as you would expect, there would be no worthy cause in Canning that Don wasn't ambitious for."
Mr Hastie hit back at deputy Labor leader Tanya Plibersek's claims made outside Armadale Kelmscott memorial hospital on Tuesday he was distancing himself from Mr Abbott.
"I am very glad the Prime Minister is here, he got a rock star's welcome at Port bouvard surf lifesaving club and I am glad that he and other senior ministers are here to support me," he said.
He denied people in the area were concerned about Mr Abbott's leadership.
"I am not feeling the pressure and people are not mentioning it, they are talking about local issues," he said.
"All this talk about leadership and everything else and the Labor party are trying to hijack this election for their own purposes as are the Greens but at the end of the day there are going to be 12 names on the ballot and ultimately people have to make a local choice whether it's my name or 11 other names but I believe I will be the best local candidate."
Mr Abbott was confident Mr Hastie could hold Canning for the Liberals.
"I am not going to say it is all over bar the shouting because Labor will fight very very hard and the fact there has been such a precession of senior Labor figures here shows they are fighting very hard and I am expecting an absolute union blitz in the last couple of weeks of the campaign as that has been their form in every recent election," he said.
"You know the unions throw the kitchen sink at the thing in the last couple of weeks of the campaign.
"I'm not saying it is a sure thing by any means but given the quality of our candidate and given what I think is the strong record of the government I am confident."