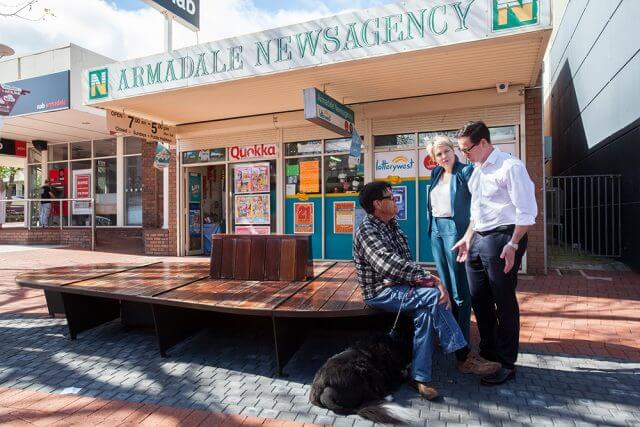 With a street named after his mother's family, being born and bred in Kelmscott and a spudshed shopper, there is no question Labor candidate for Canning Matt Keogh knows the area. Robyn Molloy caught up with him and federal Labor deputy leader Tanya Plibersek at Dome Armadale on Tuesday to talk about the area.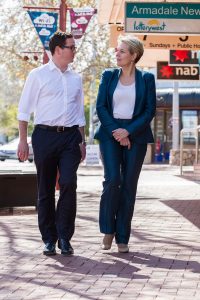 Aspiring politician Matt Keogh has flagged health, education, crime and jobs as priorities but he also hopes his 'hood' of Kelmscott gets some attention soon and the entire Armadale area can lift its profile.
The former Armadale redevelopment authority community reference group member said as the third oldest settlement in Western Australia, Kelmscott had been 'starved of good planning and investment'.
"The Armadale redevelopment authority did a great job in Armadale, I think it could do more in Kelmscott," he said.
"Some people are concerned the transition to the metropolitan redevelopment authority has meant the emphasis on redeveloping Armadale and Kelmscott has really come out of the organisation.
"Kelmscott has been long neglected in terms of the relationship between Kelmscott and Armadale, that is nothing against Armadale, as Armadale has become the regional centre.
"We need to allow both centres to properly service the growing populations around them."
He said traffic flow in and out of Armadale needed addressing and in addition to Denny Avenue and Armadale Road, trucks on Brookton Highway had also been flagged as a problem.
"The reality is Armadale is a junction," he said.
"In Armadale and Kelmscott you've got South Western Highway, Armadale Road, Albany Highway, Brookton Highway.
"That's what makes this the great regional centre that it is but you have got to make sure it is safe."
Mr Keogh said hand in hand with crime, another issue that had emerged was the perception of Armadale.
"One of the ways it has been coming up is even for people who are not personally experienced break-ins or antisocial behaviour, they are very conscious that Armadale gets a bum rap," he said.
"There is this perception in the rest of Perth that Armadale is this terrible place to live and it has a very high crime rate.
"The crime rate is high but we do need to do more and I would love to be part of that, to improve the image of Armadale as a district.
"You bring people out here and they get to see the natural beauty of the area and the great parks and great facilities.
"It's beautiful and people go 'oh it's actually really nice out here and it's like 'yeah, we all know that'. So it is about selling that."
Mr Keogh will take leads from the late Don Randall and former member for Armadale Alannah MacTiernan if he wins his way into a federal seat.
While Canning is a safe Liberal seat because Mr Randall held it with a margin of 11.8 per cent, the majority of the population fell into state seats held by Labor, with Armadale held by Tony Buti and Mandurah held by David Templeman.
"What it really demonstrates is the power of good local representation," he said.
"Armadale first with Alannah MacTiernan and now Tony Buti and Mandurah with David Templeman and people got it with Don.
"Don was always out there talking to people and listening and I think building on the experience I have seen with both our state Labor members and from Don, the key is to be out there listening and reflecting back on what people want to have said on their behalf."
Mr Keogh said he would be a politician would would listen.
"With 10 years working as a lawyer and with community organisations there is one thing I have been doing, taking on board what people need to have said for them and bringing that forward as a strong advocate for them," he said.
Mr Keogh is no stranger to campaigning in the area having worked alongside Ms MacTiernan when she stood against Mr Randall in the 2010 election.
Even she was unable to shake the Randall factor.
"What I learnt from Alannah is that it is always important to stand up for local issues because that is one thing she always does and all things are important in politics," he said.
Mr Keogh would not be drawn on whether he would stand again for Canning at the 2016 federal election or the new electorate of Burt if he did not win Canning this time around.
"Obviously really tragic circumstances have led to this by-election so of course this has come about sooner than I expected or anticipated," he said,
"Right now I am focused on this by-election and we will look at what happens at the by-election after the by-election."
Mr Keogh said his mother moved to the area in 1960 and Travers Gardens in Kelmscott was named in honour of her father, the first lawyer in the south metropolitan area.
"It is where he used to have a farm holding out in the hills and my mum and dad their house is just up that hill as well, up behind where Colli and Sons used to be. My brother lives on it," he said.
Ms Plibersek, who flew in Monday afternoon, was happy to hit the streets of Armadale to help with Mr Keogh's campaign.
"Matt said I am not allowed to leave until I have got him at least five votes," she said.
"I wanted to get down here and support our excellent candidate."