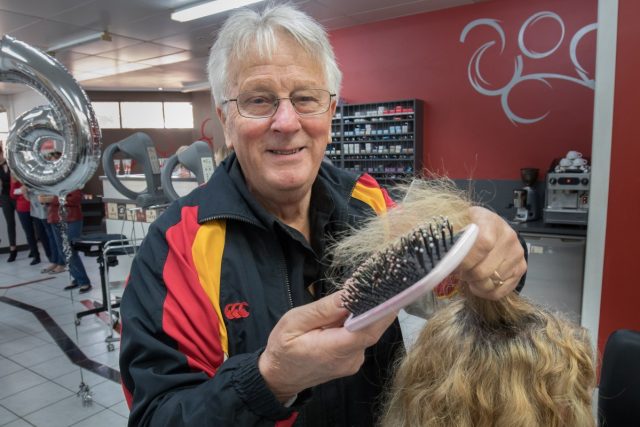 Michael Cowen has heard many stories over his more than 60 years in hairdressing, some he says his clients wouldn't even tell their husbands. Mr Cowen was only 15 years old when he began his apprenticeship in central London. 
He then progressed to purchasing his own salon in the north of England before making the big move with his wife Maureen, emigrating to Perth with their three children all aged under six. "Maureen was six months pregnant with our fourth child when we arrived," he said.
"We opened our first salon Michael Gordon Hair Fashions in Armadale in 1972 and we lived in the two bedroom flat above the salon. "It just exploded… it took off.
"I think within two or three years I had 15 to 20 staff and because that went so well we opened another salon, firstly in Ardross, then Rockingham, Mandurah and in the Sheraton Hotel in Perth."
It wasn't long before Mr Cowen was head hunted to deliver business conferences to spread his business model to other salons across Western Australia and later the rest of the nation.
Mr Cowen and his wife soon took to the skies and travelled across the world to attend similar conferences in 45 states in the United States and the whole of Canada. 
Deciding enough was enough, the couple decided to return home and spotted a salon for sale in Jull Street and the rest as they say is history.
Mr Cowen has been showcasing his amazing skills with his scissors and brush at Hair Colour Café since 2010, servicing many of his clients that have followed him throughout his journey in Western Australia. 
With his business lease finishing up in November, Mr Cowen has now made the difficult decision to hang up his scissors and retire from the industry that has served him well for the past six decades. 
"I love all of it… there is no aspect of the job I don't like," he said. 
"There is one lady here today, I have done her hair for the past 47 years.
"You get pretty close because you see them every three to four weeks for an hour or two hours at a time.
"It is that aspect that I am going to miss, probably more than cutting hair." 
A surprise celebration was held this week at the salon with some of Mr Cowen's longest serving clients.