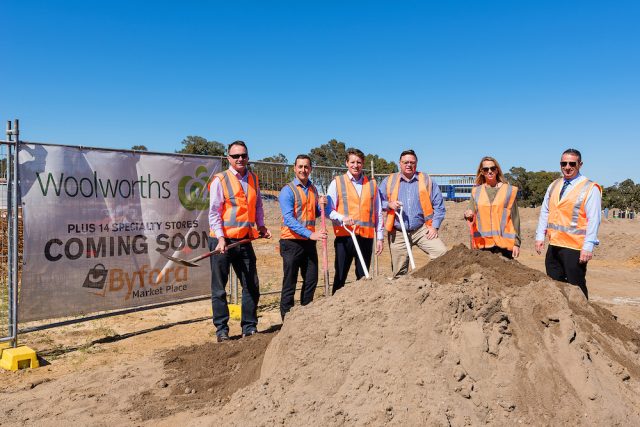 With population set to increase the Shire of Serpentine Jarrahdale has been voted the fastest growing shire in the country for a number of years.
To cater for the growth Byford was set to welcome a new market place and residential subdivision on Abernethy Road next year.
The market place will be home to Woolworths, 14 speciality stores and a medical precinct.
On October 12 developer Anthony Sorgiovanni held a sod turning event at the construction site.
Mr Sorgiovanni said the construction was a win for residents.
"This development will provide for significant job opportunities during the construction period and permanent job opportunities upon opening of the marketplace," he said.
"The recent 2016 census data reported the Byford community is expected to grow a further 30,000 households in 10 years to the 2026.
"This is an astounding number so we've listened to the community from inception of our planning process to ensure the Byford marketplace was designed to offer the community much more than a place to shop."
Mr Sorgiovanni said Byford Town Centre would be an area for families to meet and greet and a general place for socialising.
Byford resident Diana Kenney said she was looking forward to the new centre.
"I can't believe the area has changed so much," she said.
"I've lived here my whole life and I was just thinking to myself it would be interesting to see the before and after pictures of the site the new shopping centre's going to be built on."
Ms Kenney said it was great the area would have more choice for residents to choose from.
"Coles is right next door to this new Woolies," she said.
"Who really cares, you can at least go to whichever one you want to and I think it's great that Byford is becoming so developed.
"I don't think we're going to be out in the sticks for much longer and that's exciting."
Federal Member for Canning Andrew Hastie said he was pleased to see the development happening, which he said would provide more competition and choice for the people in Byford.
"Byford is the heart of the fastest growing local government area in Australia," he said.
"So getting more retail services into the area is really important."
Shire president John Erren did not respond before deadline.