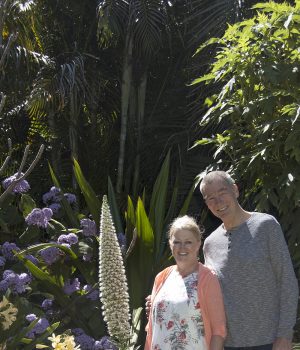 Frances Hodgson Burnett, author of the children's classic The Secret Garden wrote in her novel 'The garden bloomed and bloomed and every morning revealed new miracles,' which is exactly what one Byford couple are preparing to do with the opening of their own garden later this month.
Through Open Gardens West Coast Shirley and Ray Fisher will open their garden to the public and the money raised on the day will be donated to the international humanitarian organisation Médécins Sans Frontiérès.
Mrs Fisher said she hoped to raise more than $2000.
"We are very happy to be supporting it," she said.
"These people risk their lives and rely on fundraising and we are happy to be part of that."
Mrs Fisher said she was excited for people to come and see the garden as it would be the first time it has been opened to the public since 2010.
"We have no theme," she said.
"We love all sorts of plants, foliage, texture and big plants."
Mrs Fisher said her garden had six levels and residents were welcome to explore it.
"This is our secret garden," she said.
"But we want to share it with everyone."
The tropical garden features different trees, shrubs and plants including marri trees, ferns, bulbs, palms and roses.
It was also home to blue wrens and other birds and animals.
Mrs Fisher said she loved that the garden attracted wildlife.
"It is a sign the garden is healthy," she said.
"I'm very happy with it."
The open garden day will be held at 10 Ray Close, Byford on October 28 and 29 from 10am to 4pm.