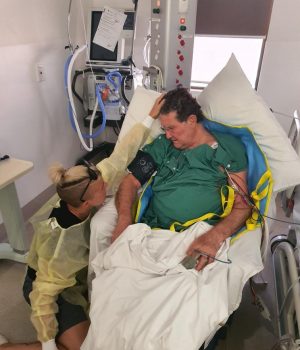 The family of a former WA Police officer has established a fundraiser to bring him home for rehabilitation after he suffered a catastrophic post-surgery stroke.
In January, Armadale man Shannon Naylor was rushed to Intensive Care after collapsing just 24 hours after surgery.
The 62-year-old remained unconscious for more than four days, awaking to find he had lost his ability to talk or move his limbs.
Mr Naylor had suffered a catastrophic Global Ischemic Stroke, which occurs when blood flow to the brain drastically reduces or stops completely.
A scan of his brain revealed severe damage to the right side of his brain, as well as damage to the left side and his frontal lobe.
Just four days later, as he was regaining his strength, the family had the heart-wrenching task of telling Mr Naylor that his mother had passed.
The 62-year-old remained in ICU until just last month, when he was transferred to Fiona Stanley Hospital for rehabilitation.
According to Shannon's daughter Katrina, he is likely to remain there for the next three to four months, until modifications can be made to the family's Mt Nasura home to allow for his discharge.
Katrina said the family's world had been turned upside down by the incident and, despite not knowing the degree to which her father will recover, they were determined to get him home.
The family has since established a GoFundMe page to raise money for modifications, which would require the installation of a $70,000 lift.
Katrina said she had already been overwhelmed by the community's support for her committed, community-minded father – who has been forced into early retirement by the stroke.
"He was the charter President of Armadale Rotaract Club, is a Master Mason, a member of Kununurra Lions and served four years in the Army Reserves as a Medic," she said.
"We'd like to give something back to dad.
"We do not want him placed permanently in a care facility.
"He wants to be home in front of his own TV watching the footy and we want him to be able to use any independence he has, and feel secure and happy.
"It is a house in the hills, with staircases and many other hurdles – this is not a small task.
"The alternative is that he goes into temporary housing at a facility, while they sort out what to do.
"As you can appreciate, this is an added stress during an already difficult time, and as a family we just want to get our dad home and back to his comforts."
So far, the family has managed to raise more than $9,000 for the modifications, with more than 100 donors contributing.
To donate, visit gofundme.com/f/A-Lift-for-Shannon