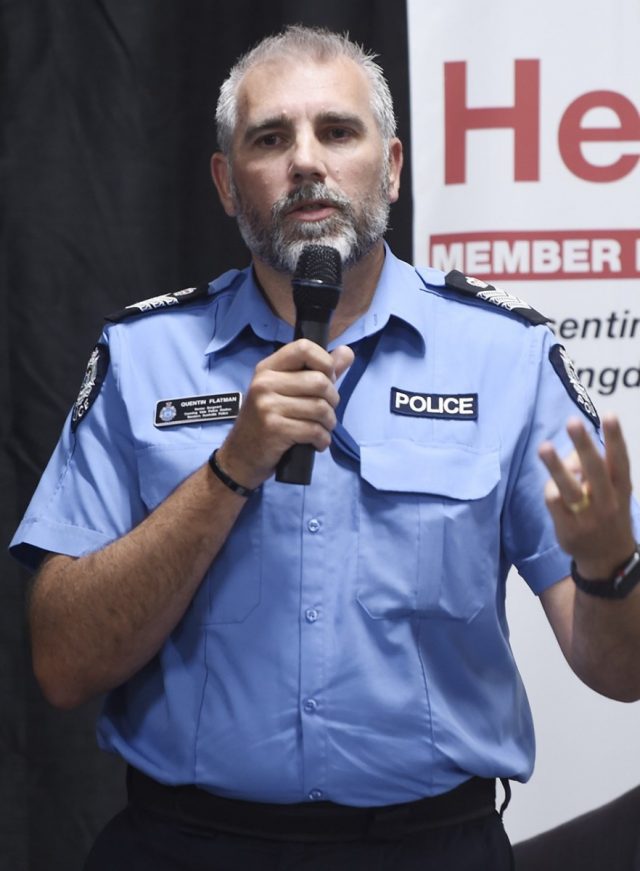 Former Canning Vale Police senior sergeant and officer in charge Quentin Flatman has been promoted to the role of state command inspector at the State Operations Control Command Centre.
Mr Flatman started with the police as a 17-year-old cadet in 1990, he entered the police academy in 1992 and graduated in early 1993.
From there he worked at a police station around the metropolitan area before becoming a detective in 1997.
He worked as the officer in charge at Kununurra Detectives, Derby Police Station, Albany Police Station and the Cold Case Homicide Squad.
In January 2019, Mr Flatman started with Canning Vale Police as senior sergeant and officer in charge, and earlier last week he was promoted to the State Operations Control Command Centre in Maylands.
"In this role I provide an oversight of all incidents that occur in the metropolitan and regional areas of WA," he said.
"This oversight includes ensuring they are resourced appropriately and support the frontline staff in completing their work more efficiently and effectively by providing real time intelligence whilst being a conduit for advice should officers face something outside of their normal daily operations."
Mr Flatman who lives locally, said he focused on bringing a country policing style to the area, which included making police more accessible to community needs and removing barriers from residents only having interactions with police when something was going wrong.
"With this view I strived to work with local governments (Gosnells, Canning and Armadale), attending community meetings with local members and encouraging anyone in the community to attend the police station to discuss their local concerns or issues, and being responsive to these needs," he said.
"This often led to reducing crime and being able to deploy officers swiftly to issues before they became bigger entrenched problems within an area.
"I am very proud of the staff at Canning Vale and the community should be very happy with the commitment and service provided by these staff on a 24/7 basis.
"Canning Vale officers take crime and its impact personally, in respect to making sure it does not happen on 'their watch'.
"These officers will attend the death of a person in the morning, be arresting someone at lunch, and be providing security advice after a burglary in the afternoon and never look for acknowledgement of their actions, other than to turn up the following day and do it all again."
According to Mr Flatman some of his best experiences at Canning Vale Police were the satisfaction that came out from the efforts made to locate missing people in the community, especially those involving children and elderly.