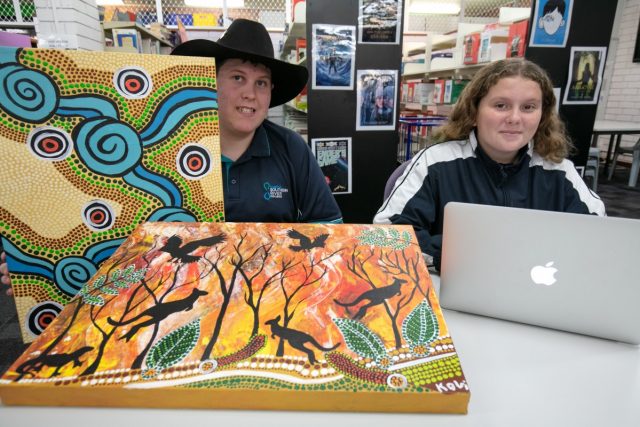 Children who are sidelined because of the situation they were born into, or their skin colour, are being encouraged to become storytellers and dream big, this is what the Australian Indigenous Mentoring Experience (AIME) is all about and and Southern River College students jumped at the chance to take part.
More than 20,000 Indigenous youth have experienced AIME's Imagination Factory, which aims to address one of Australia's most complex social challenges – Indigenous inequality.
In light of the coronavirus (COVID-19) pandemic, AIME launched IMAGI-NATION TV to support Aboriginal and Torres Strait Islanders and help them make sense of today and imagine tomorrow.
Eight Southern River College students participated in the latest episode of IM
AGI-NATION TV, which was facilitated by teacher and AIME coordinator at the college Ms Blair Pasco.
The episode was focused on the value of listening and what it means to be a good listener.
Year eight student Matilda Annandale was featured in the episode and gave a presidential speech on the subject, stating the importance of listening.
"Some people are good at speaking, telling their stories and being able to inspire others, but being a good listener is more important than speaking it," she said.
"It gives others an understanding about someone's situation and it helps us to know what words are best support to help them.
"We should consider the meaning of people's words, we should look beyond their letters and understand their body language, their tone of voice, and under
stand their thoughts, feelings and beliefs."
The powerful message was streamed live early last month, and Matilda said she took a lot away from the experience especially when it comes to being a confident speaker.
"I put this into my everyday life when I have to make speeches or speak to people I don't know," she said.
"When I finish school, I would like to study politics at university, I would also become a mentor to help the next generation."
Fellow year 10 student Kobi Philbin was featured in the episode as Young Artist of the Week, which aims to expose Aboriginal artworks and encourages young children to pursue their passions.
Ms Blair Pasco, who has been involved in the program for the past two years, said it supports students to seek opportunities after graduating such as higher education or work placements.
"We do this by taking them to program days hosted at Curtin University and through university mentors helping guide the students and their learning goals," she said.
"Currently we have 12 students who regularly attend the tutor squad sessions for support, and staff come and go to support each student based on their individual needs.
"We would love to host a similar event during NAIDOC week where our students complete podcasts or vlogs about what it means to be a part of AIME at SRC.
"Otherwise Tutor Squads happen every Monday from 3-4pm in the HASS breakout space.
"All Aboriginal and Torres Strait Islander students are welcome to attend."