A last minute decision to change his flight to Bali 17 years ago resulted in a brush with death for a local Cardup resident. 
Gary Nash had planned to fly to Bali to meet his friends on Sunday, October 13 2002 but a quick call from his travel agent meant he jumped on the plane two days earlier, arriving in the holiday hotspot on the Friday night. 
Another rash decision to stop in for a drink with friends at Paddy's Pub would result in a life-altering consequence, as three bombs were detonated, one at the pub, killing 202 people and wounding hundreds more.
Mr Nash said his trip to Bali was supposed to be a week of rest and relaxation before he started a big job at work. 
"We had gone out to dinner, the four of us at the Maccaroni Club and we were heading for the Sari Club and Jason said 'I know some people from North Melbourne in Paddy's', so we went in there and had our first drink in our hand and then boom," he said. 
"A woman came flying off the dance floor and she saved my face from the almighty blast. 
"She knocked me over and I was unconscious.
"When I came to I said 'love, you have got to get off me because I can't get up'. 
"Of course she didn't move or anything… I rolled her over and she was just shredded because she had copped the whole blast from the bomb right in the face. 
"There was virtually nothing left of her."
Mr Nash managed to crawl out of the burning building and escape through a hole in the wall.
"I sat on a little brick wall outside Paddy's and I was thinking to myself 'geez I have survived this'," he said.
By that time the bomb at the Sari Club had also gone off and Mr Nash recalls people running everywhere and the smell of burning flesh amongst the chaos. 
"I had managed to find a chair… four young blokes came over to me and said 'mate we have got to get you out of here otherwise the fire is going to come this way and get you'," he said. 
The men lifted Mr Nash into the back of a ute, which was headed to the hospital.
In the ute, Mr Nash was among three others, a man who died on the way to the hospital, a woman who died shortly after and another woman who died in hospital. 
Once at the hospital Mr Nash met with an Army lieutenant named Trent Mongan who told him that he was organising to get him on a plane back to Australia as soon as possible. 
Mr Nash was on the first flight out of Bali en route to Darwin and then Brisbane where he was placed into an induced coma for three weeks.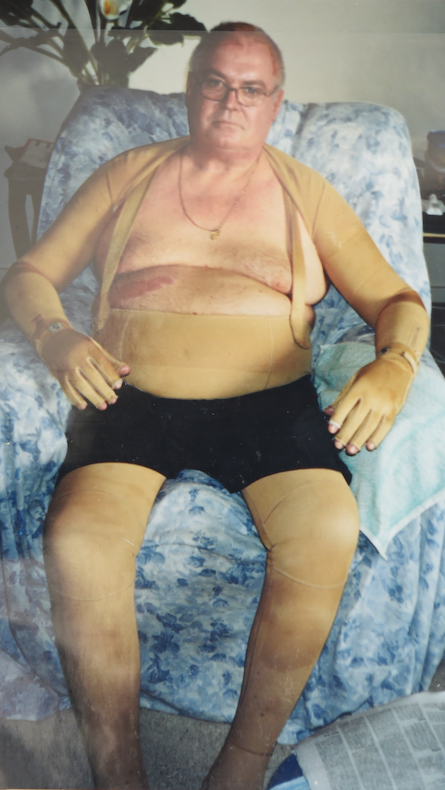 His wife Sharon said the family was told he had less than 10 per cent chance of survival after receiving burns to 54 per cent of his body. 
Mr Nash's road to recovery continues today, now 17 years on from the devastating terrorist attack. 
"I had seven skin graft operations and I was in Brisbane for nearly three months before we came home," he said. 
"I was also in full pressure suit for nearly two years.
"My legs won't heal…we get them healed for maybe a month or two at a time and then they start breaking down again." 
Mr Nash has returned to the holiday hotspot a number of times since, including two commemorative trips for the first and 10th anniversaries. 
He has recently been asked to be part of the Australian Delegatation for Victims of Terrorism at the International Congress of Victims of Terrorism in Nice in France in late November. 
This weekend, October 12 marks the 17th anniversary of the terrorist attack.