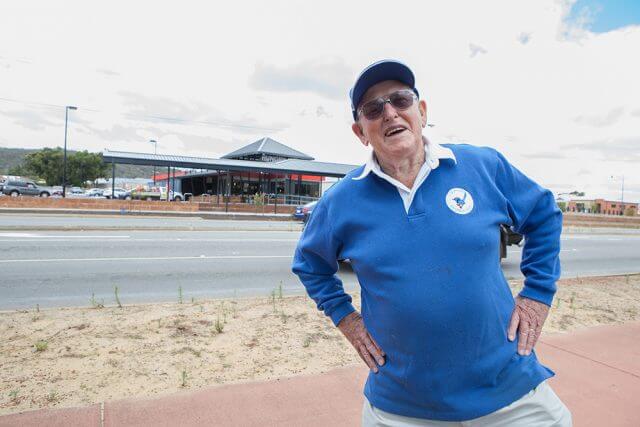 Giving back to the community comes naturally for Byford resident Athol Wigg, who has spent decades volunteering in fields as diverse as the environment, health and education.
Mr Wigg was one of about 140 volunteers recognised for their contribution to the community by the Shire of Serpentine Jarrahdale at the thank a volunteer lunch at Byford tavern on Monday.
While he attended the lunch as a justice of the peace, his volunteering record included working with St John Ambulance in the 1980s and 20 years with landcare.
He was also a founder and board member of the Serpentine Jarrahdale grammar school and held positions on several committees including the Peel Harvey biosecurity group.
"I moved to Keysbrook in 1951 and we developed virgin land and farmed there until 2007," he said.
"I've always had a desire to give back to this community because I realised I was so lucky to be getting so much from it.
"Once I started volunteering one thing led to another because you have an interest in one thing so you start volunteering and when you get some fruition on it you end up moving on to the next appropriate thing."
Mr Wigg said satisfaction and a sense of community had kept him going.
"I can drive down the highway and think 'yeah we planted those trees five years ago and they're doing well'," he said.
"You have ownership over that.
"We all gain from what each of us is doing as well because we have in excess of 2000 volunteers in the shire in 200 groups and we're all contributing to those interests, wether it be sporting schools or environment.
"As the shire grows the sense of community has become fragmented and we have an influx of people who have perhaps not experienced community participation but if they do they will find there's such satisfaction in it."
He said the shire was home to exceptional volunteers who had built the community.
"We have a shire but that's bricks and mortar, it's the people who make it a community," he said.
The 83-year-old said he would never give up volunteering because there was still so much work to do.
"I'll give up volunteering once I've gone out in a casket, I won't give up because I have a lot of battles to win yet," he said.
Other volunteering groups represented at the lunch included bush fire brigades, church groups, heritage societies and youth, sporting and seniors groups.
For more information about volunteering visit sjshire.wa.gov.au or call 9526 1111.