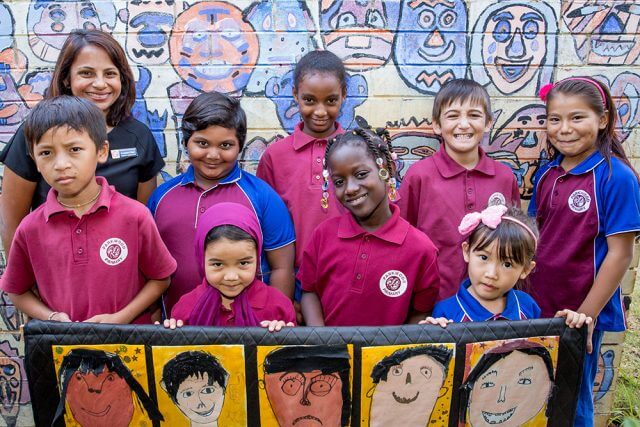 Parkwood Primary School will host a multicultural festival this Friday to promote inclusion and diversity in the community.
The festival will feature multicultural performances, food and activities and will kick start Harmony Day celebrations in the City of Canning.
For the first time staff, students and parents from Parkwood's Intensive English Centre will also be sharing their cultures with the community with activities including a traditional Sudanese game, how to write names in Chinese and how to tie a sari.
The centre started in 2003 with the idea of teaching English to refugees but it has grown to include migrant families.
It has helped hundreds of children and families learn English to prepare them for society as well as the Australian school curriculum.
Intensive English Centre deputy principal Letchme Paul said events like this were important to allow the centre's diverse population to share their backgrounds.
"We have about 23 different cultures and languages in our centre so it's very diverse," she said.
"We were so thrilled to participate in this festival.
"It's a good opportunity for our children to participate and have their culture validated and acknowledged to an extent.
"It is very important for these families to know we are interested in their cultures and we'd like them to share it with the wider community.
"I think it helps parents feel they're being valued and there's the issue of respect as well, we are respecting what they bring to the table."
Parkwood Primary School P&C president Claire Jolly said the festival was about celebrating cultural diversity.
"We've tied the date in as close to Harmony Day as possible," she said.
Ms Jolly said entry was a gold coin donation.
"On the evening we will have international food vans, market stalls selling hand-made gifts from around the world and we have got some awesome entertainment organised for the kids," she said.
"There is something for the entire community and the emphasis is on affordable family fun."
The nationally celebrated Harmony Day on March 21 spreads the message that everyone belongs and reinforces the importance of inclusiveness to all Australians.
The festival will be held this Friday on the school grounds from 5.30pm to 9.30pm.
Like the P&C on facebook.