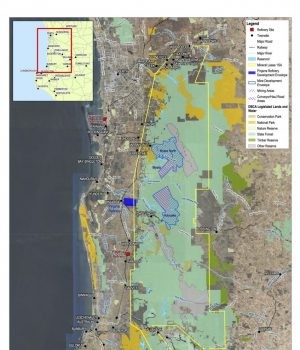 The state's Environmental Protection Authority (EPA) has announced it will undertake a detailed assessment of the environmental impacts of the expansion of Alcoa's Huntly Alumina Refinery.
The news comes just weeks after the Conservation Council of WA and the Jarrahdale Forest Protectors called on the public to respond to the proposal, which would involve clearing 6,700 hectares between Jarrahdale and Dwellingup.
The expansion is part of the company's 10-year mine plan and would allow it to transition from its current Huntly Bauxite Mine in Myara to two other sites, with the Myara North site to be operational from 2025-2030 and the Holyoake site from 2030 until 2035.
But Jarrahdale Forest Protectors chair Jan Starr said the group held grave concerns about the impact that clearing the forest could have on vulnerable species and the region's status as a recreational destination and expected the decision.
"The threats to the forest are multiple and beyond the resources of the Department of Biodiversity, Conservation and Attractions to manage so it becomes an important question for the government to address," she said.
"These threats, besides mining, are climate change, destructive over-logging, prescribed burning, illegal uses and lack of management of recreational use. "Business as usual will mean future generations will inherit a much-diminished Northern Jarrah Forest.
"There needs to be a comprehensive, independent, scientific inquiry."
On Monday, EPA chairman Dr Tom Hatton echoed those sentiments and said the proposal's potential to impact on flora, terrestrial fauna and developed reservoirs used for drinking water warranted an extensive assessment.
"The proposal has the potential to impact on Terrestrial Environmental Quality through soil contamination and disturbance of acid sulfate soils; Social Surroundings through increased noise, adverse impact on recreation, nature based tourism and amenity; Air Quality through dust and particulate emissions; and Greenhouse Gas Emissions from increased emissions at the refinery and mining operations," he said.
Dr Hatton said the preliminary key environmental factors were complex and that detailed assessment was required to determine the extent of the proposal's impacts and how the environmental issues could be managed.
It is understood 1589 of the 1732 submissions the EPA received during the seven-day consultation period were in favour of a Public Environmental Review, the highest level of assessment undertaken by the EPA.
An Alcoa spokesperson said the company welcomed the decision, having requested this level of assessment itself last month.
The spokesperson said the company was keen to modernise its environmental approvals and ensure its operations were meeting contemporary regulatory and community expectations.
It is understood the company will now focus on conducting the detail studies required by the EPA as part of the review, which includes studies into potential impacts on flora, fauna, water, air quality, greenhouse gas emissions, and social surrounds, which includes recreational resources such as tracks and trails.