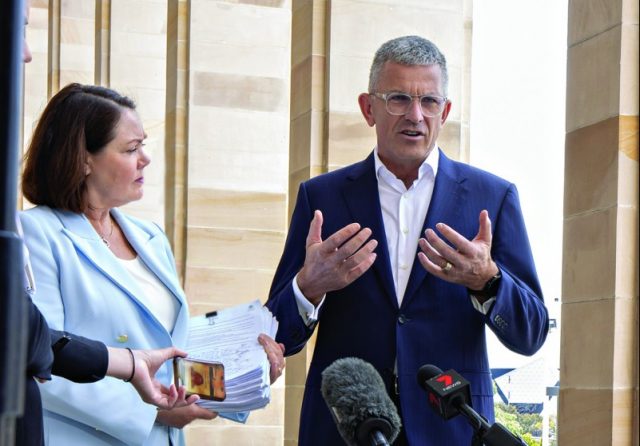 The voices of more than 10,600 people demanding change for Armadale have echoed through the halls of Parliament today, after Opposition Leader Liza Harvey filed an 'SOS' on the community's behalf.
Just over four months ago, Business News executive chairman and long-term local Elton Swarts launched a petition calling on the State Government to commit to measures that would stimulate economic activity in the city, combat its escalating unemployment rate and tackle crime. 
Over the last 135 days, the campaign has placed the city's economic and social challenges under the microscope and amassed some 10,667 supporters – making it the largest petition on a single issue to be presented in the last decade. 
Among the petition's eight requests were calls for a new jobs target, payroll holidays for businesses with local employees, the development of a new TAFE and the relocation of one of its 1000-employee strong flagship departments. 
The release of the petition, supported by Business Armadale and Examiner Newspapers, coincided with confirmation the city's unemployment rate had risen to almost 15 per cent, parts of which already ranked among the highest nationally for socio-economic disadvantage. 
In the months following its launch, two of the petition's requests were the subject of significant government budget allocations, with the State Government committing $22.6 million for the Armadale TAFE campus and announcing $52 million to kick-start the Byford rail extension. 
While applauding the actions taken so far, Mr Swarts said his primary concern was still the number of local jobs in Armadale – which has 17,000 fewer jobs than its metropolitan centre counterparts. 
"Ultimately, it's an SOS to help Armadale," he said.
"This is not a little cry for help – this is the whole chorus of Armadale asking for help and we're doing it respectfully. 
"Armadale needs help and the case is compelling.
"If we're going to combat our high rates of unemployment, we need long-term local jobs.
"One of the most significant issues for Armadale is that we just don't have the jobs in the CBD. 
"That needs to be kick-started, and we're calling on the State Government to do that. 
"The CBD of Armadale needs local jobs, in particular more professionals.
"It requires nurturing to regain critical mass before it thrives again. 
"Armadale has an abundance of natural beauty and wonderful things to offer.
"A lot of the ingredients are there; it needs investment and jobs to shine again. 
"I am yet to see a government strategy that will tackle sustained job creation in Armadale." 
The petition has gathered supporters from prominent figures in both state and local politics, including City of Armadale mayor Ruth Butterfield and Member for Armadale Tony Buti
Dr Buti said while he strongly supported the objectives outlined in the petition, he believed addressing the city's long-standing issues would require collaboration from all three tiers of government and private sector investment.