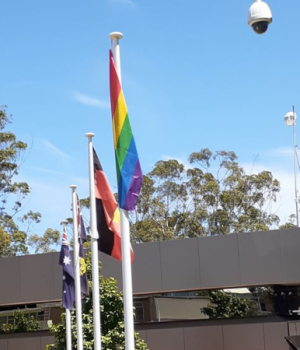 A Christian lobby group has taken to the City of Armadale to question its decision to fly the LGBT flag outside its administration building, labelling the move "offensive". 
The flag was raised last week to mark the launch of the city's Diversity and Inclusion Strategy, which aims to create an inclusive and equitable working environment for its staff, and coincided with PrideFEST.
But the Association for Reformed Political Action distributed an email late last week calling on its Armadale members to contact the city and express their opposition to the decision.
Though the move was not one formally made by the council, elected members are understood to have received a number of calls and emails over the decision with concerns that the flag was "divisive" and that the values represented by the flag "clashed" with their religious beliefs about sexuality and marriage. 
As many as 10 members from Armadale's Free Reformed Church community gathered at the council chamber on Monday night to reiterate their opposition to the decision, by which point the flag had been taken down. 
City of Armadale chief executive officer Joanne Abbiss told Examiner Newspapers that the decision was made after a review of the city's Policy Manual identified that there were no policy restrictions related to flag flying. 
The flag was then flown for a period of one week, in accordance with state government protocols.
Mrs Abbiss confirmed that the city's Standing Orders House Advisory Group would consider the process for the development of a formal flag policy in the coming months. 
The political action group has already voiced its intention to launch a petition against raising the LGBT flag during the policy consultation process.