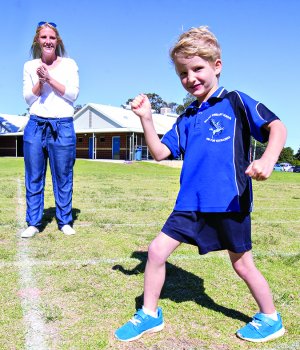 A Byford mother is bursting with pride after her six-year-old son volunteered to complete 75 laps of his school oval to raise funds for Telethon.
The third of seven children, Cooper Taylor-Cole was born with one kidney, so the compassionate youngster understands all to well what it is like to spend time in hospital.
Not only does he require regular check ups and doctor's appointments, but he also spent time a lot of time as a visitor at King Edward Memorial when his younger sisters, who are triplets, were born two and a half months too early and needed to be incubated.
His mother Donna Taylor-Cole said a few weeks ago her son heard about Telethon on the radio and asked her what it was about.
"I explained it to him," she said.
"He immediately said he wanted to do something and help out."
Ms Taylor-Cole said Cooper had a compassionate heart and she was very proud of him.
"He is such an inspiration," she said.
"At such a young age to be so helpful is something to admire."
Cooper said he is excited for his upcoming feat, which has been scheduled to take place on October 14 at the Byford Primary School oval.
"I want to raise money so the little boys and girls in hospital can get better and come and play with me," he said.
Ms Taylor-Cole said the community has been incredibly supportive of her son's cause and she is thankful.
Byford Primary School principal Sue Heath said she is very proud of Cooper.
"It's just fantastic," she said.
"We're all behind him and it's a great thing to do."
Cooper has set himself a target of $3000.
So far he has raised just over $200.
If you would like to help Cooper fundraise visit everydayhero.com.au/coopers-fun-run-1.