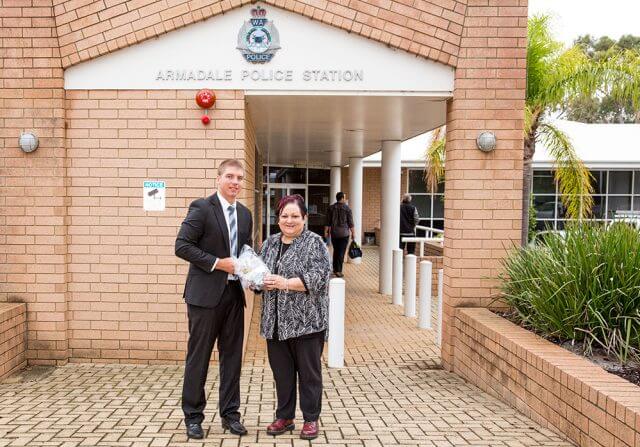 The daughter of an 89-year-old World War II veteran thanked Armadale detectives after they recovered war medals stolen from her father's home over the Anzac Day long weekend.
Angela Hartwig said her father Donald Hartwig had recently moved into residential care and she was still moving his belongings out of his Armadale home when someone allegedly broke in and stole a number of items.
"He had a big army trunk, which is what they rummaged through, really disrespectfully I might add," she said.
"I think it's a poor show because he is at an age and point of his life when he is vulnerable."
Among the items taken from the trunk were war medals Mr Hartwig earned throughout his decades-long military career, which included a stint in Japan during World War II.
Family memorabilia dating back to the 1940s was also stolen.
The items were recovered on April 27 following a police patrol in the Seville Grove and Champion Lakes areas.
Police noticed the driver of a Mitsubishi Magna behaving suspiciously and attempted to stop him but he allegedly drove away.
A short time later the driver of the Magna lost control of the vehicle and crashed into a tree in Dancy Way, Seville Grove.
He was arrested and his vehicle was searched, turning up a number of allegedly stolen items including Mr Hartwig's medals.
Ms Hartwig was grateful to police for recovering her father's treasured belongings.
"I'm just glad to get these things back for dad," she said.
"We hadn't actually told him they had been taken yet because he's been through quite a bit of trauma over the last few months and we didn't want to upset him or get him worried unnecessarily.
"I'm also really glad he wasn't at home – he's been there nearly 30 years and thank God he wasn't there and harmed when it happened."
Armadale Detective First Class Constable Mike Fewster said police were pleased to return the medals to their rightful owner.
"Returning property is always a good feeling," he said.
"We are finding more and more property that we're trying to identify and we do often use social media to help, but in this case we were able to find and contact Angela that day."
The driver of the Magna, a 30-year-old Seville Grove man, was charged with burglary, stealing, reckless driving, escaping lawful custody and no authority to drive.
He appeared in the Armadale Magistrates Court on April 29.