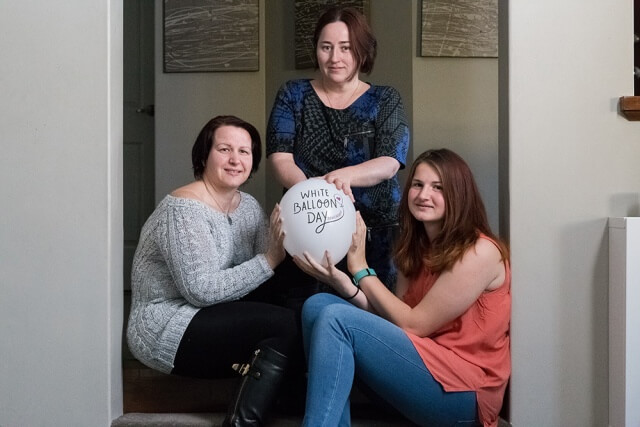 A Thornlie woman is helping to break the silence surrounding child sexual assault by holding a ladies pamper night on White Balloon Day next month.
Held annually during Child Protection Week, White Balloon Day is leading child protection organisation Bravehearts' key awareness campaign aimed at encouraging Australians to play their role in creating child safe communities.
Heidi Prindiville said she and her 15-year-old daughter Sarah had been supporting White Balloon Day for about five years.
This year they hoped to expand their efforts and reach as many people as possible.
Ms Prindiville said it was an important endeavour because, despite being shockingly common, sexual assault against children was rarely discussed in public, leaving survivors and their families feeling isolated and with little support.
"For a long time this was a subject that was swept under the carpet and generations of people have never been able to speak about it," she said.
"We know that one in five children will have been sexually assaulted before their 18th birthdays but we're still not talking about it or putting funding towards it.
"As soon as you mention a physical illness like cancer they get money thrown at them but you mention sexual assault and people tell you they don't want to talk about it."
She said many people didn't realise the ongoing effect sexual assault could have on survivors and their families including mental health issues and a loss of trust.
The lack of conversation was something she hoped to change with events such as the ladies pamper night.
"We're aiming to raise $10,000 with the night but it's mostly about the awareness," she said.
"We want to say that yes, this is a sensitive subject, but it happens and if people keep sweeping it under the carpet it's not going to be dealt with. People are not going to be able to move on from it.
"That awareness needs to happen for everybody, no matter how old they are.
"We should be teaching kids in kindergarten and pre-school that it's their bodies and they can say no."
Sarah said she wanted to help reduce the stigma of being a sexual assault survivor.
"I want people to feel that they can talk about this to others and I don't want them to think they have to hide it," she said.
Bravehearts founder Hetty Johnston said protecting children was everyone's business and by taking up the White Balloon Day challenge by raising money and awareness everyone could play a role.
"It is likely there is a child in everyone's life, or the life of someone they know, who has been a victim of child sexual assault," she said.
The ladies pamper and fashion evening will be held on September 9 from 7pm at the Amherst Village Community Hall at the corner of Warton Road and Holmes Street in Southern River.
There will be between 20 and 30 stalls offering everything from facials to hand massages and a fashion parade.
Entry is by gold coin donation with all funding going to Bravehearts.
For more information about the event visit facebook and search for Ladies Pamper and Fashion Evening for White Balloon Day.
For more information about White Balloon Day visit bravehearts.org.au.
Facts
• One in five Australian children will be sexually harmed in some way before their 18th birthday.
• That equates to 59,000 children each year or one child every two hours.
• The cost of child sexual assault to Australia is estimated at $10.4 billion every year.
(Source: Bravehearts)