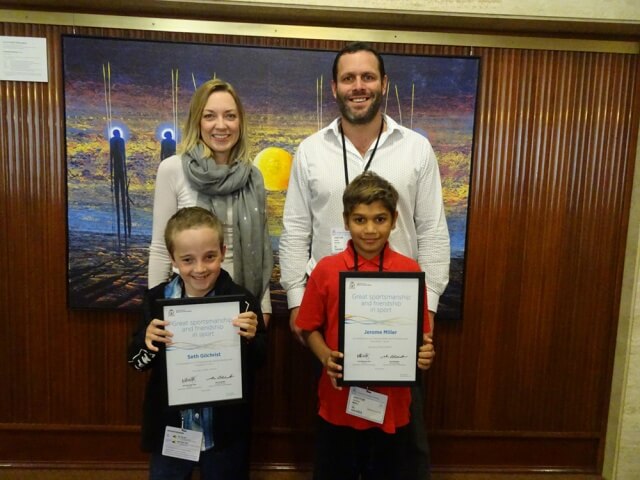 Two Serpentine boys have been recognised at Parliament House after showing what true sport values are all about.
The 10-year-olds, Seth Gilchrist and Jerome Miller, had been competing in their school's cross country recently when Seth, who has cerebral palsy fell behind.
Jerome, who is one of the school's fastest runners, was coming first before realising his friend wasn't up the front as well so he turned back for Seth and walked across the finish line with him.
Sport and Recreation Minister Mia Davies invited them to Parliament House and said they were an inspiration.
"I felt so honoured to meet these two boys and their families in Parliament  as they represent what true sport is all about – giving everyone a fair go and being a good team mate," she said.
"By working together Seth and Jerome have both overcome various obstacles in their lives and have become good friends.
"Their story is an inspiration to everyone who thinks they cannot do something – all you have to do is give it a go."
She said the State Government encourages sports at all levels from grassroots teams to groups helping those with disability, right the way through to the elite levels.
Jerome's mother Susan Thompson was proud of her son's actions and thankful for everything Seth had already done for him.
"Seth has made a big difference to Jerome," she said.
"Jerome was going through a difficult time so the teachers decided to make them buddies and they've been friends ever since."