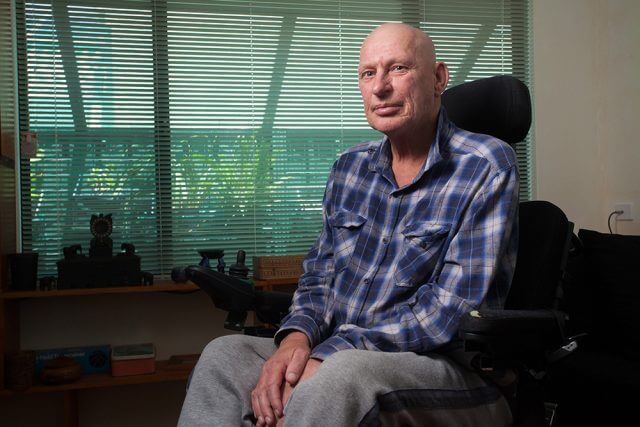 An Armadale man with muscular dystrophy was forced to leave respite care early during recent lung cancer treatments because he could not secure funding help for the service.
Grant, who did not want his last name published, went through chemotherapy and radiotherapy in September and October following his lung cancer diagnosis.
Unable to walk because of muscular dystrophy further complicated his treatment.
Doctors told him he had to have respite care during the six-week treatment period for his own safety.
He found respite care at Rocky Bay in Cockburn, which was subsidised for the first 30 days to $40 a day but went up to $100 a day afterwards.
Grant said because he had recently built a specially designed home on a shared equity scheme and was on a disability pension he was unable to afford the increased cost of the respite care after the first 30 days.
"I had to come home for the last week of treatment, which wasn't the best time to come home because I'm still pretty burnt from the radiation and I was taking a lot of pain killers and that sort of thing," he said.
He received $500 from the cancer council, which paid for some extra days but was faced with closed doors when he asked elsewhere.
He was left to pay $1600 .
"Apart from the 30 days…every time I asked there was no support," he said.
"There were times where I only wanted someone to give me a hand, at least 50 per cent of this bill for the $100 a night but everyone said 'no sorry'."
Grant, who also overcame bowel cancer a few years ago, said the financial strain during his treatment added a lot more stress.
"If I could have stayed on instead of having to come home I would have felt a lot better about it, being at home has been a bit difficult and a little bit dangerous to a point," he said.
Grant made the choice to build his specially designed home to live independently but that decision came back to bite him.
"When it comes to giving us a little bit of a hand because I'm independent and don't have a carer there was just nothing," he said.
"If I had a carer they would've funded everything and I could have stayed a lot longer and gotten over this properly.
"I could have lied and I was told to lie but I didn't want to rort the system but unfortunately if you don't rort the system you don't get anywhere."
Grant's sister Lynda said something needed to change to ensure people like Grant didn't fall through the gaps.
"This business that you need a carer to be able to access anything needs to change," she said.
Spokespeople for Health Minister Kim Hames, South Metro health service, and the federal Department of Human Services all referred questions about Grant's funding issues elsewhere.
Mr Hames' spokeswoman said he did not comment on operational matters.
A spokeswoman for the disability services commission said where people were eligible they were encouraged to contact their local area coordinator to discuss the situation.
Member for Armadale Tony Buti said the real worrying sign about Grant's situation was no government agency or minister was prepared to take responsibility for the issues he faced.