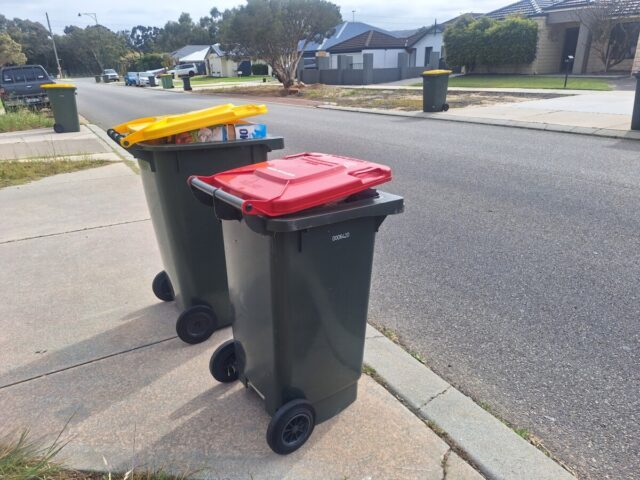 Shire of Serpentine Jarrahdale's rubbish collection service is a little on the nose this month after multiple reports from locals that landfill and recyclable rubbish have been getting picked up by the same truck.
One Serpentine resident claimed they had noticed a rubbish truck emptying both bins "regularly" and asked if this was common practice?
Another commented they had followed behind a truck as it picked up both bins along an entire street – something which they'd noticed happening for a few years.
Someone else said they'd witnessed the same in Jarrahdale around 10 months ago.
But there were plenty of commenters who said they regularly saw two separate trucks collect their waste.
Cleanaway is contracted by the SJ Shire to collect and dispose of both rubbish and recyclables.
They service over 90 local governments around the country (20 locally), and operate the largest solid waste and recycling services fleet in Australia.
The Examiner went straight to the source and asked Cleanaway whether there was any truth in the recent online reports.
"Cleanaway currently has a local matter under investigation," a spokesperson said.
Shire president Michelle Rich said they too had received one complaint about a truck collecting both landfill-bound waste and recyclables.
"Officers have contacted the shire's waste collection contractor Cleanaway who have confirmed that on this occasion their driver has mistakenly emptied the recycling bin together with the general waste," the shire said in a response to a query made by Cr Tricia Duggin.
In response to this breach of contract, a Cleanaway spokesperson said the company took its responsibilities "very seriously".
"Employees who either collect or instruct another employee without prior authorisation to collect recyclables and waste within a mixed load face disciplinary action, which may include termination of employment," they said.
We asked if it was common to mix landfill and recyclables. The Cleanaway spokesperson said "there are rare occasions requiring management approval when we may authorise an employee to undertake mixing of waste types due to operation, safety or customer requirements".
Cleanaway said they're focussed on cutting down on greenhouse gas emissions, with 70 percent of the company's Scope 1 emissions being generated from landfill. Recycling is the most impactful way the company can limit emissions.
But recent online discussions have shown there are many locals sceptical that collected recycling is actually being recycled.
Cr Rich said local recycling waste is processed at Cleanaway's Material Recovery Facility (MRF) in South Guildford and that there was enough capacity there to accommodate all of the SJ Shire's recyclables.
In November 2019 that facility suffered a catastrophic fire which caused "a significant effect on the flow of recyclable waste in Western Australia" according to the Department of Water and Environmental Regulation.
For months there was reports from multiple local government areas that recycling waste was heading for landfill, with other councils and the state government scrambling to find alternatives.
But Cleanaway has said the rebuilt $26 million South Guildford MRF has the capacity to recycle 200,000 tonnes each year, with 90 percent effectiveness.
The Examiner asked the SJ Shire what checks and balances were in place to ensure waste is being disposed of and recycled responsibly.
"Contractual agreements with Cleanaway ensure the waste and recycling are collected separately and disposed and recycled according to the contract," Cr Rich said.
According to its Waste Management Strategy, the SJ Shire "aims to move towards a low waste and low carbon society".
In order to achieve this, it lists as its objectives: "Provide the community with an acceptable waste management service that works to divert materials from landfill and is cost effective and equitable; Improve data collection of solid waste disposal and recycling volumes to inform management decisions; Be accountable and transparent in the management of the Shire's waste; Inform and develop future Shire's waste initiatives, to offer recycling facilities for household derived waste streams".
The shire said they encourage local residents to report any other incidents of rubbish trucks mixing hard waste and recyclables.
"Please, please report any and all breaches to the shire," Cr Duggin said.