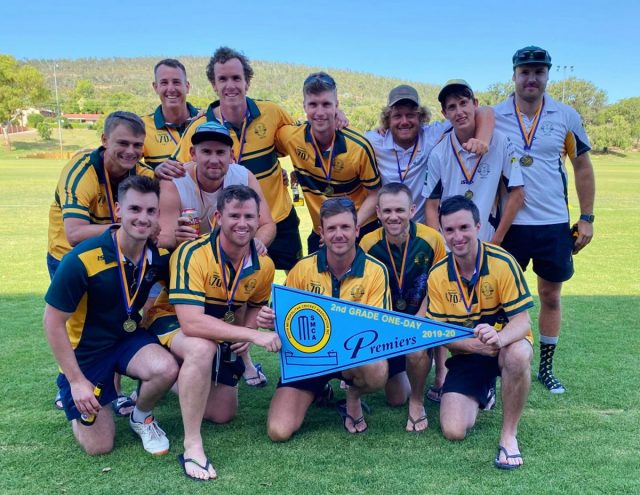 Roleystone Karragullen's second grade side went up against Kelmscott Cricket Club at their home ground of Frye Park on Sunday for the one-day grand final. 
Roleystone Karragullen won the toss and sent the hosts into bat for the first 40 overs. 
The visitors started well with Brett Turner grabbing a wicket on his first ball. 
This was followed by a flurry of wickets including three each to Mitchell Stuart and Davey Thomason and two to Trent Stuart. 
A brilliant catch from Sam Ierino also helped see the visitors dismiss Kelmscott for just 74 runs. 
In reply Roleystone Karragullen's Ben Chmielewski belted the first ball for four but he wasn't there long as he found himself dismissed for just six runs. 
A few quick wickets saw Roleystone Karragullen's Davey Thomason and Michael Chmielewski come and go before Sam Ierino stood tall with 23 runs.
The rest of the match was up to Glen Hickinbotham (25 not out) and Darryl Kipping (four not out) as Hickinbotham belted a six to win the match. 
Roleystone Karragullen finished with 5/79 off their 19 overs to win the one-day premiership flag. 
Coach Gavin Taylor said the side bowled extremely well on the day, cleaning up their top order quickly and the pressure never lifted. 
"We have a very versatile squad, anyone can bat in whatever role we need them and most of them are quality bowlers," he said. 
"To Kelmscott's credit they fought hard with the ball but just didn't have enough of the board to keep us at bay. 
"We need to play the best cricket we can and try for promotion to first grade next season." 
Roleystone Karragullen currently sit at first on the ladder with eight wins and two losses, while Kelmscott sit at fourth with six wins and four losses. 
Photographs – Richard Polden.