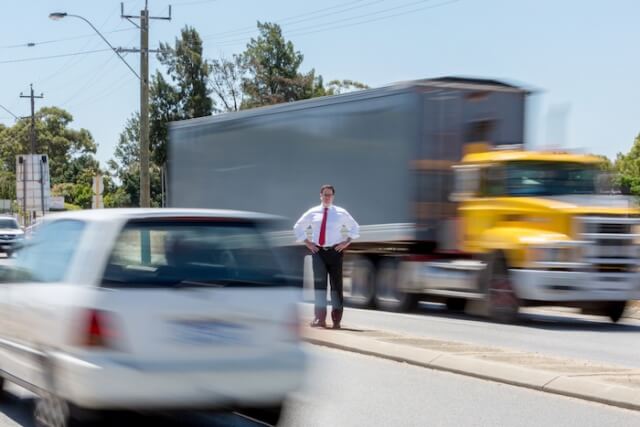 Federal member for Burt Matt Keogh has lambasted the Federal Government's commitment to the Armadale Road widening project after it was revealed construction wouldn't actually begin until 2018.
Urban Infrastructure Minister Paul Fletcher confirmed in parliament last month work would not begin on the project until "early 2018".
Federal member for Canning Andrew Hastie first promised the $145million of federal funding for the road in September 2015 during the Canning by-election.
Mr Keogh said this meant work would not begin on the road until two and a half years after it was promised.
"At this rate people in Perth's south east won't see any benefit from this vitally important project until late 2020," he said.
"The population continues to balloon in our region, putting more and more cars onto an already heavily congested Armadale Road.
"Unemployment – particularly among our young people – is the highest it has been in years, yet the employment opportunities offered by an infrastructure project like this won't open up for another year."
He said work should begin on the road in the New Year.
The cities of Armadale and Cockburn didn't share the same concern as Mr Keogh.
Armadale chief executive Ray Tame said they wouldn't be standing for any inordinate delay but they understood the size of the project required lots of planning.
"There has been no formal advice of any delay but the city is aware of the significant amount of design, planning and preliminary work needed on a project of this size – work on the project has started, but actual construction is still some time off," he said.
Cockburn mayor Logan Howlett said major projects always had a lengthy lead in time.
"The minister's answers confirm that federal funding is locked away so providing State funding also confirmed then the city has no doubt about the project progressing," he said.
Both city's said their main issue was secure funding for the North Lake Road Bridge which would reduce traffic throughout Cockburn Central.
An Infrastructure Australia spokeswoman said they couldn't comment on the Armadale Road widening project's merits until they finished evaluating its business case.
The Department of Infrastructure and Regional Development was contacted for comment but did not respond before deadline.