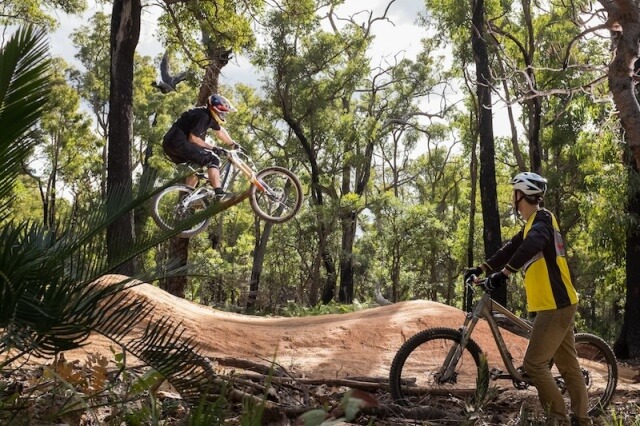 Perth's south-east could become a mountain biking hub over the next decade according to the Perth and Peel Mountain Bike Master Plan 2016-26 released for public comment last Tuesday.
The draft plan outlined the potential delivery of 570-kilometres of purpose-built trails across 24 sites in the state including high-priority areas like Wungong near Armadale and Serpentine Jarrahdale.
The plan outlines a possible Wungong trail centre and 80-kilometres of tracks established in the Wungong Regional Park in Wungong, Bedfordale and Byford.
The centre could feature intentional standard event facilities including a lift assisted gravity trail.
The plan explained Serpentine Jarrahdale could also become a trail hub, expanding on existing facilities like Langford Park with 30-kilometres of extra trails.
The trails could also connect landmarks like Serpentine Falls with town sites.
On flatter areas the Canning River within the cities of Canning and Gosnells have also been earmarked for five kilometres of trails along the river and in Centenary Park.
Areas of the Gosnells hills could receive about 10-kilometres of trails through the Banyowla Regional Park, Ellis Brook Valley and Hardinge Park.
Environment Minister Albert Jacob said mountain biking was one of the fastest growing recreational pursuits.
"It is essential that we plan to maximise potential benefits for bike riders and the ecotourism sector while protecting our diverse environment," he said.
"This draft plan recommends developing international mountain bike destinations capable of providing a multitude of economic, tourism, environmental, health, social and community benefits."
Sport and Recreation Minister Mia Davies said the draft plan was the result of detailed assessment and consultation and included a review of the existing trails, infrastructure, events, tourism and commercial opportunities of mountain bike riding.
WA Mountain Bike Association president Alex Wade said a huge amount of work went into the plan.
"This [work] is reflective of the attention our sport is getting by both State and local government," he said.
"We look forward to seeing the development of the master plan into the planning and creation of trails."
The plan can be viewed at westcycle.org.au.