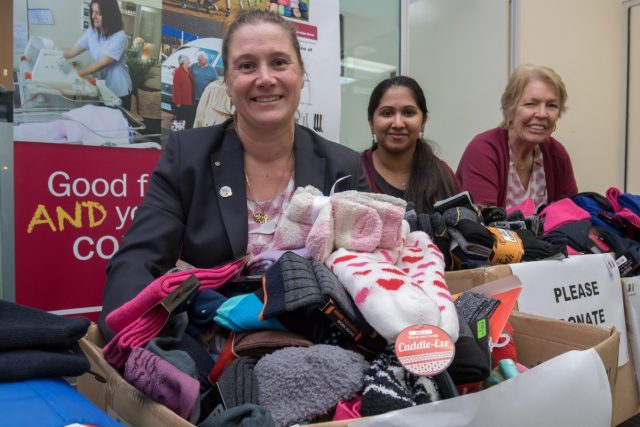 Driving to work every morning and often seeing people walking along Albany Highway and sleeping in bus shelters is what made Alison McDonnell come up with the initiative to help those in need this winter.
Ms McDonnell decided to speak to her staff at Bentley Community Bank to ask them to consider different ideas to help spread warmth throughout the community.
"We decided it would be rather practical to help warm people's feet and maybe their hearts by knowing people in the community really do care, "she said.
Socks and sleeping bags are easy to carry around and are the most affordable items to allow the community to get involved in the donation drive.
In total there were 429 new pairs of socks, nine sleeping bags and 12 beanies collected and donated to the Haven Centre.
The staff at Bentley Community Bank, family and friends donated over 150 pairs of socks and seven sleeping bags.
Alison McDonnell said she has been overwhelmed by everyone who helped in the donation considering it's the first time running this donation drive.
"Going forward next year we will be hoping to improve on this year's results," she said.
"It would be fantastic to have other local businesses involved by either collecting or advertising the flyers we have made.
"If we are able to be involved and help out the community with our time, not just a monetary value, please give us a call."
'Add a little warmth to someone else's life this winter' was the slogan the Bank used to support the Haven Centre in dealing with the crisis of homeless and less fortunate people located in East Victoria Park.
The Haven Centre is well known for providing not only free meals but also hospitality to those doing it tough.
Providing services such as hot showers and medical attention is one of the many services the Haven Centre operates.
The Bank's donations will be distributed in Victoria Park soon.
Haven centre manager Joan Sutherland said she has worked tirelessly to make it all happen and is hoping to expand their services to other suburbs in the near future.
Ms Sutherlands expressed her concern at the growth of homeless and less fortunate people in the community.
"We have seen a large growth in the two years we have been operating," she said
"More places need to be available for temporary accommodation in Perth."
Ms Sutherlands said she believed this would reduce the amount of people living on the streets and they could go on with their daily businesses knowing they have a safe place to sleep at night.
"Proposal to finding the solution to homelessness starts with acknowledgment 'homelessness is never going away."